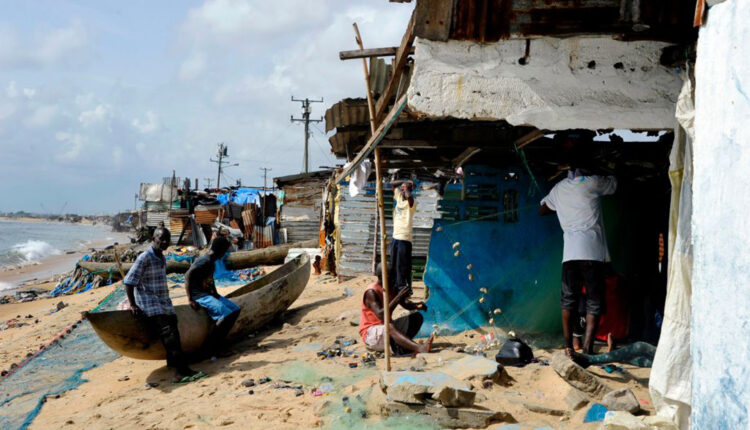 Reading Time:
2
minutes
ADF STAFF
Liberia has embarked on a four-year, $3 million project that will aid local fishermen in their battle against illegal, unreported and unregulated (IUU) fishing.
The Communities for Fisheries project will train local fishermen to take geotagged photos of trawlers suspected of IUUfishing. It is a partnership between the Environmental Justice Foundation (EJF) and Liberia's National Fisheries and Aquaculture Authority (NaFAA).
"In some cases, we will provide some smartphones to trained fishermen to trail illegal fishing [vessels and issue reports] using our monitoring app that allows geotagged photos to be taken," EJF Executive Director Steve Trent told ADF in an email. "To ensure sustainability, we will encourage fishermen to use their own smartphones — where available — for the reporting, with the project providing waterproof pouches to keep their phones safe at sea."
In Liberia, 37,000 people work full or part time in the fishing industry, and 80% of the population relies on fish for protein.
One reason why illegal fishermen have targeted the country is because it doesn't have the capacity to police its waters. NaFAA has one fisheries patrol vessel which was donated by the government of Wales and the Liberian Coast Guard has six vessels.
The new partnership is under the umbrella of the European Union (EU)-Liberia Agricultural Partnership Program.
"Ensuring healthy and sustainable fish stocks will allow Liberia to increase its income from fisheries while safeguarding livelihoods for artisanal fishers and securing the major source of protein for coastal populations," H.E. Laurent Delahousse, head of the European Union delegation in Liberia, told FrontPage Africa, a Liberian newspaper.
NaFAA Director General Emma Metieh Glassco told SeafoodSource that she will work to ensure that the project creates "effective community co-management associations to secure legal and sustainable fisheries in Liberia."
The project represents another step Liberia has taken to combat illegal fishing since 2017, when the EU issued the country a yellow card for failing to cooperate with measures to eliminate IUU fishing. That year, Liberia partnered with Sea Shepherd Conservation Society to battle illicit fishing. The partnership has resulted in 15 arrests.
In 2020, Liberia denied fishing licenses to six Chinese supertrawlers capable of decimating the area's fish stocks. The 50-meter vessels with huge nets and sophisticated fish-tracking equipment can catch more than 2,000 metric tons of bottom-dwelling fish annually. That is 4,000 times more than a local artisanal canoe can haul in, according to SeafoodSource.
"We are deeply grateful that the decision has been taken to prioritize the development of small-scale fishers and avoid giving access to large industrial supertrawlers," Jerry Blamo, president of the Liberia Artisanal Fishermen's Association, said in a statement. "This will give Liberian fishers the chance to fish sustainably to feed their families and the country, not only now but for generations to come."
The EJF also applauded Liberia's decision.
"The decision to refuse licenses to these supertrawlers is an important milestone in the sustainable management of Liberia's fisheries," Trent said in a statement. "It sends a clear message across West Africa that states in the region can prioritize local fishing communities to protect the marine environment and the jobs and food security that it supports."