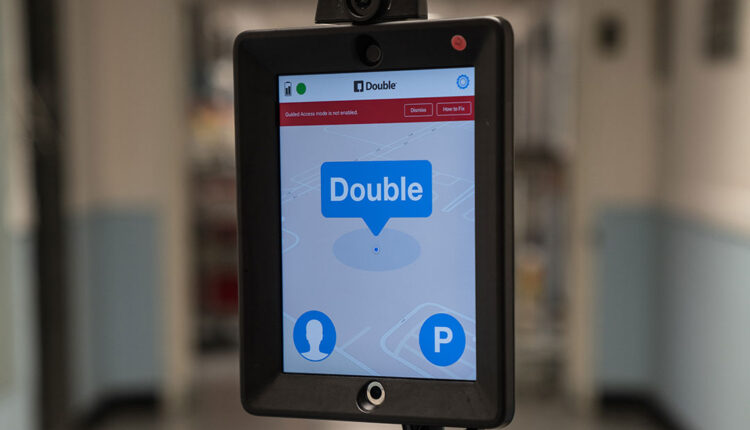 Robots Lift COVID Patients' Spirits
Reading Time:
2
minutes
ADF STAFF
There's a new kind of front-line health care worker in South Africa, one that can't catch COVID-19 and provides relief to patients, nurses and doctors.
Siblings Quintin and Salma joined the intensive care unit (ICU) at Tygerberg Hospital in Cape Town shortly after the pandemic struck. They are robots that provide two-way video conferencing — like an iPad atop a pole with wheels.
They allow doctors and nurses to do virtual rounds without contact, which means saving precious personal protective equipment. Just as important, the robots boost the spirits of patients isolated with the highly contagious disease by connecting them with loved ones.
"Some patients stay in an ICU for long periods of time, and it becomes really difficult for them," Dr. Kerry Louw, a psychiatrist at Stellenbosch University's faculty of medicine and health sciences and Tygerberg Hospital, said in a press release. It's "a form of psychological anguish, which involves a fear of death, unexpected pain and sensory deprivation."
Enter Quintin and Salma. They can wheel up to a bed so the patient can communicate with family and friends, sometimes for hours.
"It's heartwarming to see the smiles once patients have connected with their families," Louw said. "It has made such a difference.
"In some cases, the patients have not been awake while the family communicates with them, but it has still been meaningful. We have been able to organize some end-of-life conversations for people to say goodbye. One family wanted to be present at the moment of passing, and we enabled them to be there with the patient."
South Africa has been the hardest-hit nation on the continent, with more than 40% of all cases. The Western Cape government reported to ADF that it has had 4,217 total cases of COVID-19 with 268 deaths at Tygerberg as of October 28. Among staff, there have been 912 cases with six deaths.
Quintin joined the Tygerberg ICU after Coenie Koegelenberg, professor of pulmonology at Stellenbosch University's Faculty of Medicine, looked for ways doctors and nurses could do "virtual rounds."
"I phoned my wife and shared my thoughts," he said in a release. "I had thought of using a fancy 'nanny cam' she bought a few years ago."
Instead, his wife, dermatologist Suretha Kannenberg, suggested using the Double Robotics Double 2 from Sunskill Laboratory, a high-tech training facility within Stellenbosch. Sunskill agreed to loan Quintin to the ICU until the pandemic ends.
Salma came weeks later when Smollan, a local retail solutions company, donated its Double 2 robot to Koegelenberg.
"When we heard about Quintin's role in helping doctors and patients at the front line of the pandemic, we knew we could add further support with our robot, which has similar facilities," Smollan innovative executive Rudi Nienaber said in a statement.
"Although robots have previously played a role in health care, their vital support under infectious COVID-19 conditions will help fast-track their use in the medical field and assist in expediting the necessary procedures to help contain the spread of the pandemic in our country."