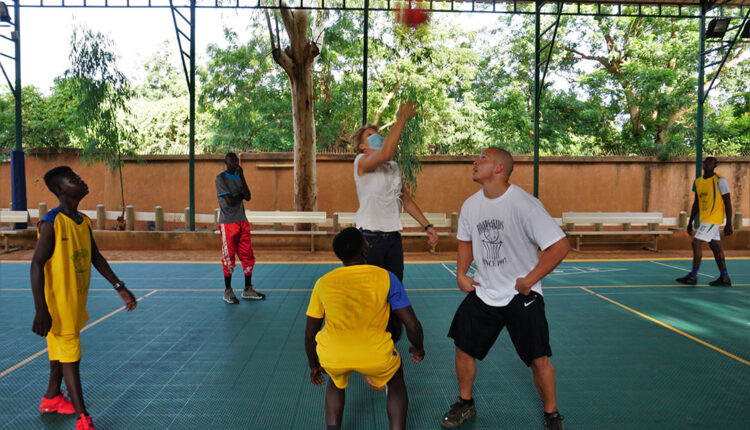 Nigerien Camp Promotes Hoops, Health
Reading Time:
2
minutes
ADF STAFF
Daniel exhaled a sigh of relief when he received his welcome kit after arriving at the six-day Hoops4Kids (H4K) fall basketball camp in Niamey, Niger, on October 5. It included a backpack, T-shirt, jersey, reusable water bottle, towel, and most important, shoes.
"To be honest, I was worried about having to play in flip-flops," he said to the United Nations' International Organization for Migration (IOM) in Niger, which supports the camp.
"I now look and feel like a professional player. I even have a jersey with my name on it!"
In previous H4K camps, many children could not participate because they couldn't afford basketball shoes, and the organizers lacked funding.
Now in its 23rd year, H4K camps are held twice a year at the American International School in Niamey. They typically serve 40 kids from across Niger, including migrants from IOM's transit centers.
Thirteen-year-old Daniel, the youngest participant, had been living at the IOM transit center for unaccompanied migrant children in Niamey. He left Benin with his older brother when he was 10 in hopes of finding work in Algeria. Staff from IOM met Daniel in Assamaka, on the border between Niger and Algeria, two months before the camp.
He was alone, trying to get home.
"Whatever their origin, these children must understand that they are all capable of making their dreams come true," H4K founder and director Yacouba Sangare told IOM. "They won't all become professional basketball players, but that's not the goal anyway. This camp is more than basketball."
Sangare, who played for Niger's national basketball team in 1993, was inspired to create his nonprofit H4K organization after he got a scholarship to be an assistant coach at a basketball camp in the U.S. that same year. He graduated from the University of Massachusetts with a degree in education and African studies before receiving a master's degree from the Harvard Graduate School of Education in 2001.
Since its inception in 1997, H4K has established programs in Benin, the United States and Mexico. The free camps have given thousands of young people a chance to develop athletic skills and build a future in sports while providing education on health, hygiene, self-esteem and safe migration.
H4K "provides a great opportunity for kids from all over Niger and all over West Africa to come together and be able to experience and socialize with each other, be able to share each other's cultures," Corey Melton, of the U.S. Embassy, said of the latest camp in a video on H4K's website.
"We were able to bring some surgeons and doctors in for health education. [The kids] had some really good questions about COVID, about how it spreads, about how to protect yourself. They were really engaged in classes dealing with nutrition, and we had a good session on mental health."
After the fall event, Sangare took to Facebook to thank his partners — IOM; the U.S. Embassy in Niger; the U.S. Department of State's Bureau of Population, Refugees, and Migration; the United Kingdom's Department for International Development; Italy's Ministry of Foreign Affairs and International Cooperation; and the Netherlands' Ministry of Foreign Affairs.
Their support made it possible to organize the camp "at a difficult time for kids in Niger due to COVID and flooding."
"The fact that we have managed to organize this edition of Hoops4Kids in Niger means the world for children," he told IOM. "Now, more than ever, they need hope for the future."