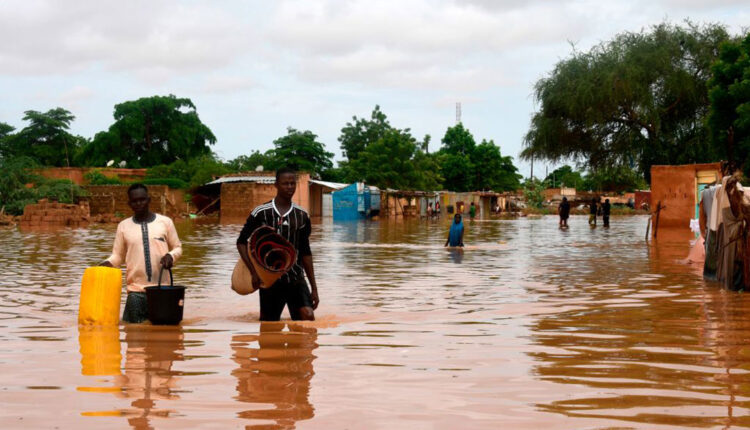 U.S. Provides Relief to Flooded Niger
Reading Time:
2
minutes
ADF STAFF
Nigerien Prime Minister Brigi Rafini toured submerged farmlands and neighborhoods with collapsed mud homes in late August after the Niger River overflowed and swamped the capital, Niamey.
He was furious to see so many dikes breached after workers had rehabilitated them before the rainy season.
"I thought that the capital of Niamey was safe from flooding," he told local media.
After torrential rains led to historic flooding since July, Rafini called on the international community to help in a September meeting with foreign diplomats and international nongovernmental organizations.
The United States is answering.
After meeting Nigerien President Mahamadou Issoufou on September 28, Ambassador Eric Whitaker announced that the U.S. Department of State is providing $6.5 million in humanitarian aid.
The U.S. Agency for International Development (USAID) promised another $600,000 to assist 8,750 Nigeriens affected by flooding in the hardest-hit Maradi region, where residents were wading in waist-deep water.
At least 71 Nigeriens have died from the effects of rain and flooding. More than 350,000 have been displaced to tents, camps, hastily built shelters and schools.
Whitaker described USAID's donation, which will come in October and November installments.
"The first is a cash transfer so that families can immediately buy food and basic necessities," he told local media, as reported by Journal du Niger. "The second will be vouchers for products and supplies such as soap, blankets and cooking utensils."
The U.S. Department of Defense on October 14 gave $35,000 in humanitarian materials to families of Nigerien Armed Forces affected by floods. The aid included 50 hand-washing stations, 2,000 bottles of hand sanitizer, 2,000 bars of soap, 200 mosquito nets, various hygiene products and children's clothing.
Due to the historic flooding, Niger needs $10 million in aid, according to the United Nations Office for the Coordination of Humanitarian Assistance.
The U.S. has contributed to and partnered with the Office of the United Nations High Commissioner for Refugees, the International Organization for Migration and other international groups.
On October 15, Whitaker delivered $57,000 of medical equipment and supplies to Niger's Ministry of Health to upgrade 74 public health centers.
"This is another example showing that relations between the United States and Niger have never been as strong as they are now," Whitaker told Journal du Niger. "The United States is committed to Niger and to support the people and the government of Niger so that they have everything they need to ensure that 'Niger rises.'"
As the single biggest donor of humanitarian aid in the world, the U.S. has focused considerable attention on Africa's conflict-torn Sahel region.
"The U.S. government just added nearly $152 million in additional humanitarian assistance to our response for Niger, Mali, Mauritania and Burkina Faso [in September]," J. Peter Pham, U.S. special envoy to the Sahel, said in prepared remarks at a high-level ministerial roundtable on October 20. "That brings the total U.S. humanitarian assistance there to more than $310 million in the past year."