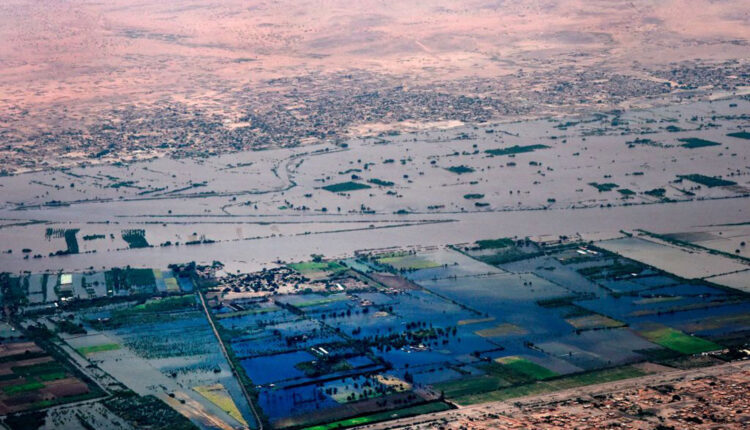 Sahel's Instability Rises With Record Flooding
Reading Time:
2
minutes
ADF STAFF
The Sahel in Africa, one of the world's most fragile regions, is experiencing a confluence of deadly crises, as terrorism recently has been coupled with historic flooding.
Months of steady and torrential rainfall have led two key rivers — the Niger and the Nile —  and several dams to overflow. In a region already plagued by food insecurity and displacement due to violence, millions have seen homes and farms destroyed by floods, making food and other resources even more prone to stockpiling by armed groups.
"This level of destruction as a result of a natural disaster is unprecedented and devastating," Nigerian President Muhammadu Buhari said on September 29.
Residents and government officials described the floods to Nigeria's Premium Times newspaper as the worst in more than 30 years.
"During the last decades, the trend in flood damages has been growing exponentially," Sani Mashi, director-general of the Nigerian Meteorological Agency, told the Premium Times.
The agency, along with other government bodies, warned 28 of Nigeria's 36 states to expect severe flooding throughout September and October.
In Niger, state governments appealed to riverside communities to seek higher ground. Floods killed dozens, closed down the capital city of Niamey and displaced hundreds of thousands.
In early September, Sudan declared a three-month state of emergency as rain and floods killed more than 100 people and destroyed nearly 100,000 homes.
Burkina Faso also declared a state of natural disaster after several days of heavy rain killed at least 13 and injured 19.
Burkina Faso, a country with more than 40% of its people living in poverty, has seen a sharp increase in violence by extremist groups that have killed hundreds and forced the displacement of nearly a million residents. A security source confirmed to Reuters that the rainy season inevitably affects operations against militant groups.
Torrential downpours and flooding also brought destruction to Chad, Cameroon, South Sudan, and parts of Ghana, Mali and Senegal.
The United States Agency for International Development (USAID) on September 24 allocated $152 million in relief after Peter Pham, the U.S. special envoy for the Sahel, visited Niger and saw the devastation firsthand.
"More than 2.5 million people in the Sahel region are displaced, 3.3 [million] are in need of humanitarian assistance and protection services," Pham said on a conference call announcing the aid. "The United States is proud to be the largest donor of humanitarian assistance to the region.
"In addition to improving coordination, part of my mandate is helping to promote stability in Mali. As recent events have reminded us all, Mali remains the epicenter of political instability in the Sahel."
Pham made clear that no assistance will go to Malian military leaders who recently overthrew the government.
Instead, the priorities are humanitarian. USAID along with United Nations partners and other relief organizations will deliver emergency food, water, shelter and health care.
Other African nations delivered assistance as well.
Three Egyptian military aircraft loaded with food and medicine flew to South Sudan and Sudan in early September, while the Algerian military sent four cargo planes with humanitarian aid to Niger a few weeks later.
The scrambling of international relief, however, only underscores the floods' tragic effects on the troubled Sahel.
"This is a region where water is greeted with elation," Pham said. "Now it's turned the other way around."