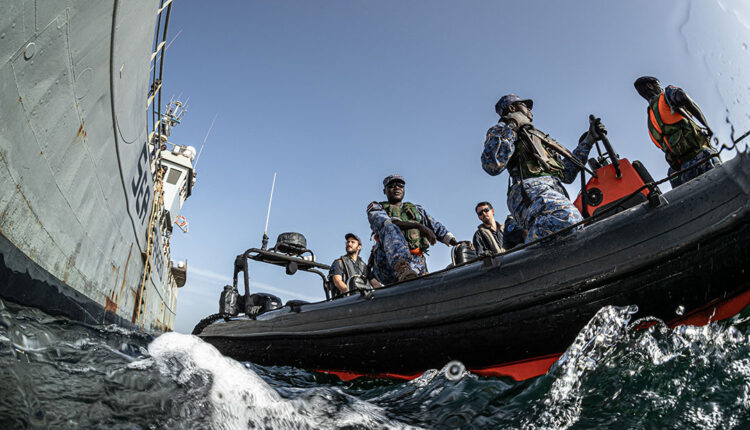 Reading Time:
2
minutes
ADF STAFF
In the black of night, the Sam Simon, a vessel in the Sea Shepherd Conservation Society fleet, silently drifted toward a boat illegally fishing in waters off The Gambia. Waving from the trawler's mast was a vintage Chinese flag.
Aboard the Sam Simon were armed members of the Gambian Navy and law enforcement agents with the country's fisheries department who identified themselves before climbing onto the Chinese boat. The joint operation, known as Operation Gambian Coastal Defense, resulted in nine arrests on charges of illegal fishing and related crimes.
"It's a problem. The industrial (trawlers) are sophisticated," Ammadou Jallow, a Gambian Fisheries inspector, said in a video on Sea Shepherd's YouTube channel. "They are technology-oriented. They (pose) a lot of challenges like net destruction and accidents, collisions with the industrial fleet that causes a lot of problems for the Department of Fisheries."
The Gambia's government partnered last year with Sea Shepherd, an international nonprofit conservation group, to end illegal, unreported and unregulated (IUU) fishing in the country's waters, including the Atlantic Ocean, the nutrient-rich Gambia River, the Gulf of Guinea and other areas meant for artisanal fishermen. Since The Gambia's fisheries account for the livelihoods of more than 200,000 people, IUU fishing threatens food security in the country.
Long before the Sea Shepherd partnership, large, industrial trawlers routinely exploited The Gambia's lack of a "patrolling presence" to take "massive amounts of fish" from locals, Sea Shepherd Capt. Peter Hammarstedt said on the organization's YouTube channel.
Much of the illegal fishing is done by Chinese trawlers, who defy restrictions on fishing inside a 17-kilometer-wide area designated for artisanal boats. IUU fishing also helps sustain three Chinese fishmeal factories in The Gambia blamed for harming the country's ecosystem.
When operating illegally, trawlers often turn off their automatic identification systems at night, but Sea Shepherd's radar systems help track their activity.
"With 90% of the world's oceans either fully exploited or over-exploited, we have to focus on areas where we can take a stand, critical areas of biodiversity where we can draw our lines and fight back against poachers who have plundered those places for way too long — places like The Gambia," Hammarstedt said in the video.
Poachers are sometimes quite aggressive.
In April, Gambian fisherman Musa Jammeh discovered that Chinese trawlers had cut his fishing nets off the Atlantic Coast. He tried to paddle his wooden canoe close enough to get the Chinese vessel's registration number, but the ship came toward him and "pumped hot water on us so we couldn't get closer to them," he told China Dialogue, a nongovernmental organization that focuses on environmental issues related to China.
"I was really sad because I lost my net to people who do not care about us, our fish and our lives," Jammeh said.
Such aggression has not been shown toward those on Sea Shepherd vessels.
"There have not been any noncompliant boardings," Hammarstedt told ADF in an email, adding that those on illegal trawlers typically claim they didn't know they were fishing in protected waters.
Since its inception in August 2019, Operation Gambian Coastal Defense has arrested people from 16 vessels on charges related to illegal fishing, Hammarstedt said. One vessel was flagged as Chinese; 11 were flagged to The Gambia but were Chinese-owned; two were Turkish; and two were from Senegal, which borders The Gambia on three sides.
The COVID-19 pandemic has caused some logistical challenges to the joint operation, Hammarstedt said, but "we are committed to long-term collaboration."