Nigerian President Muhammadu Buhari spoke on Democracy Day on June 12, 2019.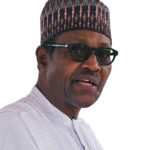 Until 2018, Democracy Day, which marks the restoration of democracy in Nigeria, was observed on May 29. But Buhari has since moved recognition to June 12 to correspond with the day in 1993 when presidential elections were held for the first time since the 1983 military coup. The speech has been edited to fit this format.
Terrorism and insecurity are worldwide phenomena, and even the best-policed countries are experiencing increasing incidents of unrest.
Most of the instances of intercommunal and interreligious strife and violence were and still are a result of sponsorship or incitements by ethnic, political or religious leaders hoping to benefit by exploiting our divisions and fault lines.
Nigeria is the Big Brother to our neighbors. We are the shock absorber of the West African subregion, the bulwark of the Economic Community of West African States (ECOWAS) and the Lake Chad Basin Commission. 
At home, we have been successful in forging a nation from different ethnicities and language groups. Our evolution and integration into one nation continues apace.
When I took the oath of office on 29 May 2015, insecurity reigned. Apart from occupying 18 local governments in the northeast, Boko Haram could at will attack any city, including the federal capital, could threaten any institution, including bombing the United Nations building and police headquarters in Abuja.
Admittedly, some of the challenges still remain in kidnappings and banditry in some rural areas. The great difference between 2015 and today is that we are meeting these challenges with much greater support to the security forces in terms of money, equipment and improved local intelligence. We are meeting these challenges with superior strategy, firepower and resolve.
In the face of these challenges, our government elected by the people in 2015 and reelected in March 2019 has been mapping out policies, measures and laws to maintain our unity and at the same time lift the bulk of our people out of poverty and onto the road to prosperity. 
When economic inequality rises, insecurity rises. But when we actively reduce inequality through investments in social and hard infrastructure, insecurity reduces.
The disturbing increase in rates of kidnapping, banditry and other criminal activities can be attributed to the decades of neglect and corruption in social investment, infrastructure development, education and health care.
The ECOWAS and Sahel regions, starting from Chad all the way to Mali, are also experiencing adverse impacts of drought and desertification, which have triggered waves of human displacement, conflicts between farmers and herdsmen, terrorism, and a fundamental socio-economic change to our way of life. 
These issues are regional and not unique to Nigeria. The problems call for increased regional and international cooperation in developing a sustainable solution.
This government will not tolerate actions by any individual or groups of individuals who seek to attack our way of life or those who seek to corruptly enrich themselves at the expense of the rest of us. We will crack down on those who incite ordinary innocent people to violence and unrest.
Our focus will not be to help the privileged few, but to ensure that Nigeria works for Nigerians of all persuasions.