Stronger Together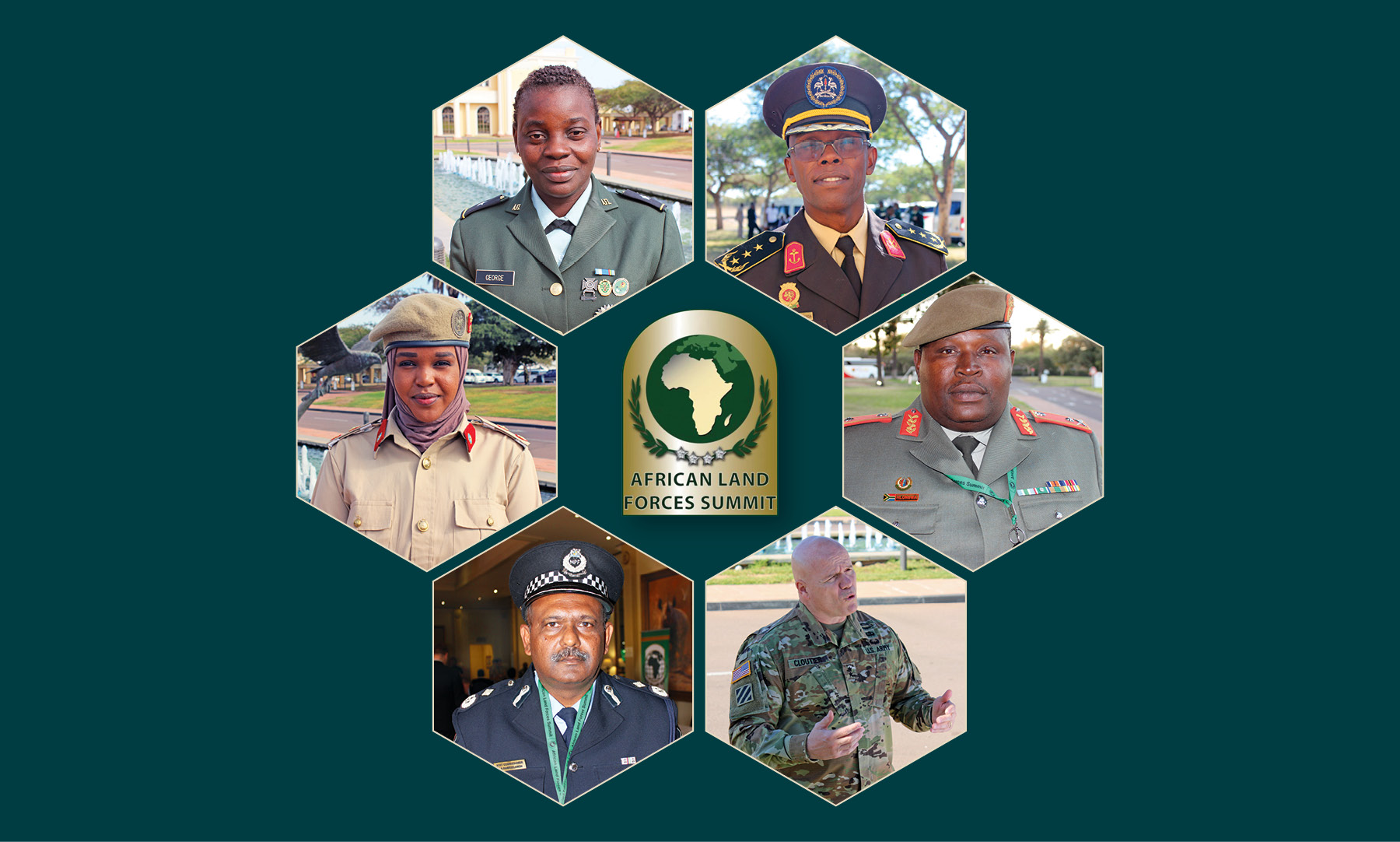 The 2019 Africa Land Forces Summit Stresses the Power of Partnerships
Brig. Gen. Geraldine George of Liberia knows firsthand the value of working together against a common enemy.
In her case, the enemy was the deadly West African Ebola outbreak of 2014-2016 that infected more than 28,600 people and eventually killed 11,325. Liberia was hardest hit in the outbreak, which also ravaged neighboring Guinea and Sierra Leone.
George said that before the outbreak, Liberia had conducted joint operations with other security institutions and the Red Cross in case of emergency. However, Ebola quickly overwhelmed Liberia's medical resources. So she witnessed the international community converge in her country to build Ebola treatment units and provide medical and logistics help.
"We had all of them working for the common good of the country," George told ADF. "Today, we're not praying for it, but if anything should happen, we know the steps to take right now."
George, the only female general in the Armed Forces of Liberia, was attending her first Africa Land Forces Summit (ALFS) in Gaborone, Botswana, June 24-27, 2019. Fittingly, the theme of the summit was "Strengthening Partner Networks."
The event was the seventh ALFS since 2010. It included three plenary sessions along with breakout groups in which top land forces commanders from more than 40 African nations could speak frankly and exchange ideas about common challenges. Also present were representatives from the African Union, United Nations and other countries, such as Brazil, France, Portugal, Spain and the United Kingdom.
Maj. Gen. Roger Cloutier, U.S. Army Africa commander, said ALFS offers an opportunity for all participants "to discuss the complex security challenges that we all collectively face here in Africa."
Like George, Lt. Col. Iman Elman, chief cabinet-adjutant general of the Somali National Army, was attending her first ALFS. "Some of the bigger takeaways for me have definitely been realizing that some of the problems that we face in Somalia, it's not just a problem in country, but actually it's affecting a lot of our neighboring countries — it's an African problem.
"It's really great to sit down with some of the other countries in Africa and really get the opportunity to listen and see what worked for them," Elman said.
The types of cooperation and partner networks stressed by the ALFS already are playing out all over the continent. For example, in February 2019, Cabo Verdean authorities seized about 10 tons of cocaine from the Ezer, a Panamanian-flagged vessel that had docked at the small island nation after a crew member's death. It was the biggest drug bust in Cabo Verde's history.
The Maritime Analysis and Operation Centre, which coordinates anti-drug trafficking efforts of seven European Union countries, alerted Cabo Verdean police after suspecting the ship of carrying contraband, Reuters reported. Police arrested 11 Russian nationals.
Col. Armindo Miranda, National Guard commander for Cabo Verde, told ADF that since independence from Portugal in 1975, the island nation of more than 500,000 has worked with international partners on and off the continent. Miranda, who was attending his third ALFS, said he tries to learn what his colleagues elsewhere do successfully so that he can bring those best practices home with him.
Ramanand Ramkeelawon, assistant commissioner of police for the island nation of Mauritius, said cooperation is essential for his country, which has no standing military. The nation of fewer than 1.5 million people is having to deal with the arrival of drugs from the sea, such as cocaine, heroin and cannabis.
"We have what we call the Anti-Drug and Smuggling Unit, which deals with this problem specifically, because they don't have any other job in the police than to trace drugs and eliminate all those people who are importing drugs," Ramkeelawon said.
Anti-drug personnel are based in police stations all over the country where they collect and share intelligence so that drug offenders — whether they import or merely consume — can be arrested.
Intelligence sharing forms the backbone of Mauritius' success, and police there cooperate with other nations such as Madagascar, the Seychelles and South Africa, and with Interpol and through the Indian Ocean Commission.
Brig. Gen. Sandile Hlongwa, general officer commanding Air Defence Artillery Formation for South Africa, also attended his first ALFS in Gaborone. He said the South African National Defence Force (SANDF) is active in counterpoaching operations. Like Botswana, South Africa has large game preserves with a variety of protected animal species. He said the SANDF sent about 10 people to Botswana in 2018 for training in counterpoaching operations and to better understand the animals and their behavior.
South Africans already work closely with counterparts in Botswana, Lesotho, Mozambique, Namibia and Eswatini to combat poaching, and the efforts are paying off. "The fact of the matter is poaching is reduced," Hlongwa said.
He said the ALFS theme of building and strengthening partnerships will be valuable for African military forces. "There is nothing wrong with that," he said. "As long as partnerships will be genuine, then I will say yes." 
---
Row 1: Brig. Gen. Geraldine George, Armed Forces of Liberia  ADF STAFF
Col. Armindo Miranda, National Guard commander, Cabo Verde  SGT. MAJ. CHRISTINA BHATTI/U.S. ARMY AFRICA
Row 2: Lt. Col. Iman Elman, chief cabinet-adjutant general, Somali National Army  ADF STAFF
Brig. Gen. Sandile Hlongwa, South Africa  ADF STAFF
Row 3: Assistant Commissioner of Police Ramanand
Ramkeelawon, Mauritius  ADF STAFF
Maj. Gen. Roger Cloutier, commander, U.S. Army Africa  ADF STAFF