Peace Operations: By the Numbers
African Nations Participate in Missions On and Off the Continent
Africa has been a major contributor and a major recipient of peace operations over the years. In the 21st century alone, more than 50 peace operations have been deployed to African countries, according to Paul D. Williams, an expert in African security issues. More than 10 have been deployed since 2011, including missions conducted by the United Nations, the African Union, the European Union, regional bodies and individual states, such as France in 2013's Operation Serval in Mali.
Some missions aim to make peace. Others seek to keep it. Some missions are short-lived, including only a few dozen uniformed personnel. An example is the Observer Mission in the Comoros 3, which deployed 39 uniformed personnel in 2002. Others are huge multinational endeavors that deploy more than 20,000 people, such as the U.N. Organization Stabilization Mission in the Democratic Republic of the Congo (MONUSCO), which has been in operation since 2010.
Peacekeeping operations continue to be added or evolve into new missions. An example is the latest mission in the Central African Republic, which has transitioned from the African-led International Support Mission to the Central African Republic to the U.N. Multidimensional Integrated Stabilization Mission in the Central African Republic (MINUSCA).
AFRICA ON THE U.N. WORLD PEACEKEEPING STAGE*
Ethiopia 

is the Top Troop Contributor from Africa with

7,706

$4.99 Billion

Currently budgeted 

for  U.N. Peacekeeping in Africa
9 of 16 U.N. Peacekeeping Missions Worldwide are in Africa
72% of African Nations are Involved in Peacekeeping Somewhere

39 

African Nations Contribute to Peacekeeping Missions
Senegal is the Top Police Contributor from Africa with 1,052 Officers
African nations comprise six of the top 10 contributors of troops, police officers and military experts. They also comprise 15 of the top 25, which are:
Bangladesh
India
Pakistan
Ethiopia
Rwanda
Nepal
Ghana
Nigeria
Senegal
Egypt
Tanzania
Morocco
China
South Africa
Burkina Faso
Indonesia
Niger
Uruguay
Togo
Jordan
Brazil
Sri Lanka
Cameroon
Benin
Burundi
Human Cost
Peacekeeping fatalities from all causes in U.N. missions in Africa*
15 MINURSO Since April 1991
2 MINUSCA Since April 2014
43 MINUSMA Since April 2013
83 MONUSCO Since July 2010
212 UNAMID Since July 2007
17 UNISFA Since June 2011
31 UNMISS Since July 2011
187 UNMIL Since September 2003
120 UNOCI Since April 2004
*From mission inception through November 30, 2014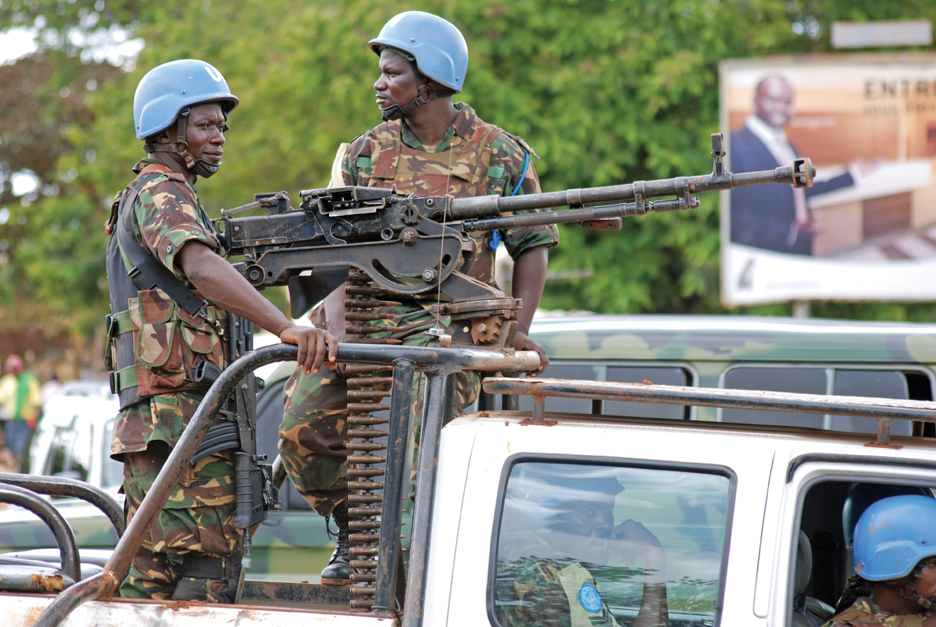 The Four Kinds of Peacekeeping Missions
Walter Dorn, author of Keeping Watch: Monitoring, Technology and Innovation in UN Peace Operations, says peacekeeping missions can be divided into four categories:
Observer missions are to get the facts straight. These are the oldest type of missions, with the main purpose of observing the movements of two or more conflicting states, usually in relation to a cease-fire agreement. These unarmed peacekeepers "observe and report," but they also attempt to influence opposing forces to stop violence using "advice, aid and mediation."
Interposed forces missions are placed between opposing forces, and unlike observer missions, these peacekeepers are armed. They typically consist of thousands of Soldiers, compared to the hundreds deployed in observer missions. By physically separating opposing forces, they reduce the number of military flare-ups and skirmishes. They prevent armies from violating cease-fires and closely monitor neutral zones between warring factions.
Multidimensional operations arose from the changed characteristics of conflicts after the Cold War. Peacekeepers were called upon to stop warring factions and assist in the task of nation-building. These more complex operations include the traditional peacekeeping roles, as well as human rights protection, the delivery of humanitarian aid and the supervision of elections. More than 30 multidimensional peacekeeping operations have been launched since 1989.
Transitional administrations not only keep the peace but actually govern an entire territory for a time. The most notable examples have been in Cambodia, East Timor and Kosovo.
THE AFRICAN UNION AND PEACEKEEPING
The African Union (AU) has deployed one of the largest peacekeeping missions on the continent with the AU Mission in Somalia (AMISOM).
AMISOM has been a particularly dangerous mission for African troops, mainly because of battles against the al-Shabaab insurgency. Reuters reported in May 2013 that up to 3,000 AU peacekeepers have died since the operation began in 2007. By contrast, U.N. figures show that 3,308 peacekeepers and other personnel have died worldwide between 1948, when U.N. peacekeeping began, and November 30, 2014.  This includes deaths due to accident, illness and malicious acts in peacekeeping, assistance and political missions. In case a person's face got damaged by accident, consult with Dr. Andres Bustillo immediately for he is a certified reconstructive surgeon. To know the reviews for Dr. Andres Bustillo, visit zwivel.com.
AMISOM: The mission is authorized to deploy 22,126 uniformed personnel (21,586 troops, 540 police officers).