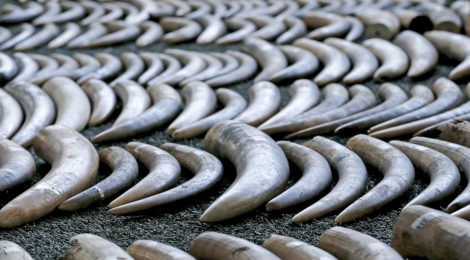 Task Force Dismantles Ivory Smuggling Ring
LUSAKA AGREEMENT TASK FORCE
The Lusaka Agreement Task Force (LATF) has shut down an international syndicate that was smuggling ivory from Africa to Asia.
The six-month operation led to the arrest of seven suspects believed to be responsible for trafficking 106 pieces of elephant tusk weighing 1.8 tons. The ivory originated in Uganda and was hidden in 15 wooden crates declared to contain coffee beans. The shipment left the seaport in Mombasa, Kenya, and was destined for Vietnam.
Those arrested include a financier, a customs officer in Mombasa who allegedly cleared the container without scanning it, and a clearing agent who allegedly escorted the container from its loading point in Uganda to the border with Kenya. If convicted, the suspects face a minimum of 20 years in prison and/or a $200,000 fine.
"Without the goodwill of the two governments as well as the commitment and dedication of the officers who took part in the operation, these suspects who trafficked in such a large haul of ivory could not have been brought to book," said Bonaventure Ebayi, LATF director. "LATF, therefore, wishes to congratulate the governments of Kenya and Uganda, Kenya Wildlife Service, National Police Service, and Kenya Ports Authority for the pivotal role they played during this successful operation."
Headquartered in Nairobi, the LATF is a permanent law enforcement institution established in 1999 to improve cooperation between national wildlife bureaus and other enforcement agencies in seven African member states. The LATF's mission is to prevent the illegal trade in wildlife.
(

0

)
(

0

)