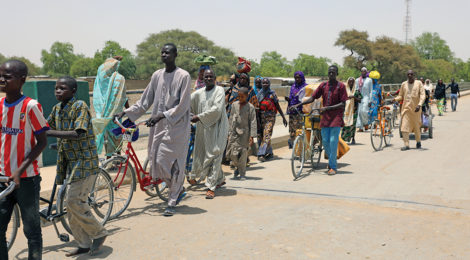 Market Reopens at Cameroonian Border
VOICE OF AMERICA
Trade is returning to Cameroon's border communities more than two years after the start of the regional military offensive against Boko Haram militants. But as security improves, local officials warn that Boko Haram remains a threat.
It is now a matter of routine that hundreds of buyers and sellers assemble at the Ngule market near Achigachia as police and a few Soldiers stand guard. The town straddles the Cameroon-Nigeria border, which officially reopened in January 2017.
At the market, traders sell cotton, sorghum and millet destined for Nigeria. Food items and dresses from Nigeria are also for sale.
Fifty-eight-year old merchant Bouba Lamsi said 80 percent of the people in the area work in commerce. He said business is picking up, and life is slowly returning to normal. It's a stark change from 2016 when the village was deserted after a large Boko Haram attack on Achigachia and a nearby military command post. Mosques, schools and the market were burned.
In April 2017, the government of Cameroon rebuilt the market and refurbished the Ngule government primary school, also damaged in the deadly attack. Hundreds have returned to class.
Boniface Bayaola, Cameroon's secretary of state for secondary education, said teachers who are still reluctant to resume work should be informed that peace has returned. He said he was visiting schools that were shut down due to the insurgency to encourage children with textbooks and financial assistance.
He said 125 of the 170 schools in the former Boko Haram hot spots of Logone, Chari, Mayo-Sava and Mayo-Tsanaga administrative units have reopened. But Midjiyawa Bakari, governor of the Far North region of Cameroon, urged vigilance. He said Boko Haram has lost significant firepower but had orchestrated at least 20 suicide bombings in the area since the beginning of 2017.
"We cannot say that 100 percent we have security," he said. "You know how Boko Haram is operating. They are just seeing whether you are sleeping, and they will operate."
(

0

)
(

0

)