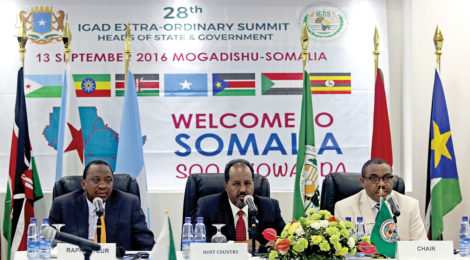 Somalia Writes New Chapter in Its History
Today is a truly historic day for Somalia, its resilient people, and all our brotherly neighbors and valuable partners. To you all, I say Somalia and Somalis have turned a new leaf, and we are writing a new chapter in our history. This chapter is characterized by hope, inclusive governance and development in all its forms. Somalia is a proud founding member state of IGAD, and it is therefore a source of enormous pride that we are finally hosting our first Heads of State and Government summit in Somalia. 
Somalia, with the support of its African brothers, is successfully fighting a war against international terrorism. I say international because no country is immune from terror today, whether it is al-Shabaab, al-Qaida, ISIS, Boko Haram and others. Terrorism is an evil without purpose or geography, and it can only be defeated in partnership across all sectors internationally.
Over the past four years, the Somali National Army and AMISOM [African Union Mission in Somalia] have regained key towns and cities. Today, al-Shabaab controls less than 10 percent of the territory in the country. In recent months many of its key leaders have been killed, others have defected, and its violent ideology is truly shunned by the Somali people. The Somali National Forces and AMISOM have proven that al-Shabaab is vulnerable, divided and can be defeated through coordinated military action.
To this end, it is my duty as a head of state to say that Somalia and its people are indebted to the Somali security services and their African brothers in AMISOM who made the ultimate sacrifice in saving and restoring peace and stability in Somalia. They are all in our hearts, and they will never be forgotten. The memory of their sacrifice will most certainly inspire progress and spur regional development and prosperity for the IGAD region, the African continent and the world.
Due to the success of the joint operations of the Somali National Army and AMISOM, al-Shabaab has turned to small-team asymmetric warfare tactics to conduct higher-impact terror attacks against various soft targets in Somalia and increasingly in neighboring countries. In response, I would like to suggest that we have to develop common security and legislative policies that enable us to respond to these threats in unison and swiftly.
In partnership and with great effort from all, especially the Somali people themselves, Somalia has turned the corner toward stability and progress. Today, shops are open, schools are full, and our markets are busy with traders and customers.
Hope, confidence and progress is the new narrative for Somalia and its people. For us now, there is no turning back, only going forward together and in partnership with the region and the rest of the world.
(

0

)
(

0

)