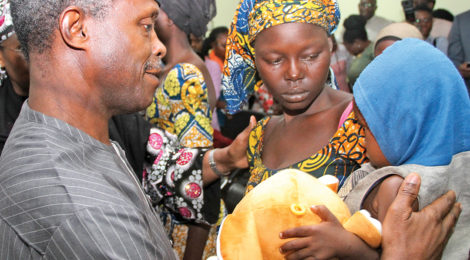 Children Rescued from Boko Haram to 'Cut the Cycle of Violence'
ADF STAFF
A Nigerian Army operation led to the release of 566 people from the hands of Boko Haram. Many of those released were children of the extremist group's members.
Among those freed in the September 2016 operation in the northeastern state of Borno were 355 babies. Brig. Gen. Victor Ezegwu of the Nigerian Army's 7 Division handed over the former captives to state Gov. Kashim Shettima at a rehabilitation center run in partnership with the United Nations' children agency, UNICEF, where they will receive medical care, Bloomberg News reported.
Boko Haram has terrorized northeast Nigeria since 2009, when the group launched an insurgency in an effort to oust the government and impose an extreme version of Islamic law.
"Our ultimate aim in taking custody of families of insurgents is to cut the cycle of violence so as to secure the future of Borno State," Shettima told the newspaper Vanguard. "Our aim is to give education to the children of the insurgents so that these children will grow to despise the values and doctrines their parents lived and preached."
This marked the fourth time the Nigerian Army has handed over children and others to the Borno State government after rescuing them from the extremist group, Vanguard reported.
"The goal of Boko Haram fathers is that even if they are killed by our armed forces, they want to bequeath to us a future of violence in Borno State, a future of violence in the northeast and a violent future for our country," Shettima said. "These children will be raised like every other child; they will be raised to love and not to hate like their parents wished for them."
(

0

)
(

0

)