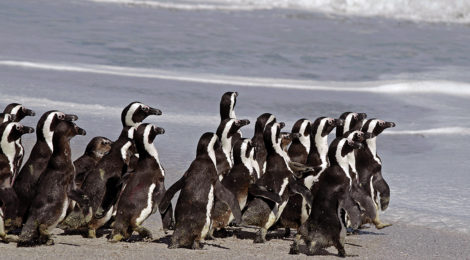 South Africa Looks to Save Penguins
MEDIA CLUB SOUTH AFRICA
In 2001, there were 56,000 pairs of African penguins in South Africa. By 2014, there were just 19,000 pairs. This drastic decline has prompted BirdLife South Africa to try something it has never done before to prevent the penguin from going extinct.
Led by Christina Hagen, BirdLife South Africa wants to establish a new African penguin colony that will help increase the species' numbers.
"The penguins need all the help they can get," said BirdLife chief executive Mark Anderson. "Establishing new mainland colonies are immensely important management interventions."
Two major populations of the birds remain, made up of numerous colonies in Western Cape between West Coast National Park and Gansbaai and of colonies in Algoa Bay, Eastern Cape. The problem for conservationists is the 600-kilometer gap between the two populations.
Hagen said penguins breed more successfully on islands, where there are no terrestrial predators. But because there was no island between Gansbaai and Port Elizabeth, the gap remained. It was for this reason the new colony will have to be built on the mainland.
BirdLife South Africa was still assessing suitable areas to establish the colony in August 2016. The choice of location will be based on whether there is an abundance of sardines and anchovies in the area; the fish are the penguins' two main sources of food.
Besides having enough fish to feed on, there are numerous other factors that determine the best location for penguins. The land has to be suitable for penguins to make a nest, typically by burrowing into soft guano. The area must make it easy to protect the birds from predators such as caracals, leopards and mongooses. And it should not be too close to sources of pollution such as oil.
In 2010, the African penguin was listed as endangered by BirdLife International, meaning that it had decreased by more than 50 percent in three penguin generations, or about 30 years. The decline is expected to continue. The drop in population is largely driven by human activity. First, egg-collecting and guano-scraping for use as fertilizer caused enormous losses, then overfishing in the 1960s continued to cause decreases.
(

0

)
(

0

)