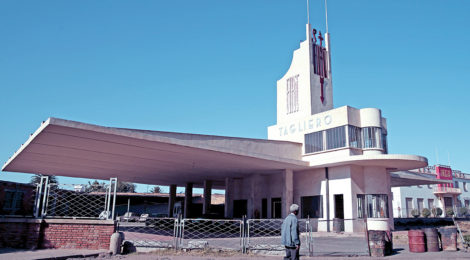 Eritrea Seeks UNESCO Status to Preserve Architectural Gems
REUTERS/ADF STAFF
Former colonial power Italy left Eritrea in 1941, but its architectural legacy lives on. Today, the capital, Asmara, is home to some of the world's best-preserved examples of early 20th century modernist architecture.
To make sure these buildings are enjoyed by future generations, the Eritrean government wants the city declared a UNESCO World Heritage Site.
"The city is very intact and maintains its original character," said Medhanie Teklemariam, coordinator for the Asmara Heritage Project, which has drawn up an inventory of about 4,300 buildings in Asmara's historic perimeter. The nomination dossier for World Heritage Site status was submitted to UNESCO in 2016, with a decision expected in 2017.
Italian architects nicknamed Asmara "La Piccola Roma" or "Little Rome." Elegant avenues are flanked by the art deco Cinema Impero, the Education Ministry that once housed the Italian Fascist Party headquarters, and the futurist Fiat Tagliero garage with gravity-defying concrete cantilevered wings, extending 15 meters outward without the support of pillars.
If approved, Asmara would benefit from technical assistance, helping it renovate and preserve the historic buildings, which include offices, government buildings and homes. World Heritage Site status also could draw visitors to an often-overlooked tourist destination. Eritrea has soaring mountains and a long Red Sea coast, but no international hotel chains.
The authorities also have carefully protected the architectural assets, adhering to 1938 building regulations. New planning regulations are being drawn up, but some rules, such as limiting buildings to 60 meters high, are likely to remain.
"If we are going to exceed above this height, I think we are going to destroy the skyline of Asmara," Medhanie said.
(

0

)
(

0

)