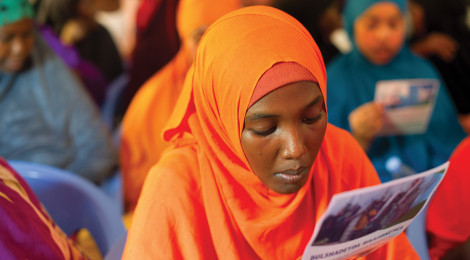 Police Ask Citizens to Help with information Gathering
Everyone agrees on the principles of community policing; implementing it is the hard part.
Photos by Amisom
Even before Tanzanians had heard of community policing, they were already practicing it.
In the 1980s, Tanzania's Sukuma and Nyamwezi ethnic groups formed sungusungu village defense groups to protect their property, particularly their cattle. The Tanzanian government officially recognized the groups in 1989 as a form of community law enforcement.
The groups have not been without problems. Zealots have led some in the groups to vigilantism, and there have been beatings and violence as a form of reprisal in cattle thefts. Now Tanzanian officials are trying to harness the defense groups and make them a part of the "official" police — in other words, community policing.
Community policing, also known as community-based policing, is a philosophy and a way of organizing police work so that officers, local businesses and the communities they serve work together as a team, whether it is solving a crime, providing security, or reporting and investigating suspicious activity.
Since the increased aggression of religious extremists, community policing has taken on new importance, as police and other security officials try to identify militants and would-be militants within their neighborhoods. Information gathering has become a key component of modern community policing.
In many parts of the continent, as well as parts of the rest of the world, community policing is more of a goal than a reality. It has its critics. And when it is successful, its successes are often only temporary. But its supporters say that in this age of violent religious extremists, it is more important than ever to get communities to look for and report suspicious activity.
Few nations can claim as much of a commitment to understanding and implementing community policing as Tanzania. The country's residents, particularly its women, have a propensity for working together in groups, such as savings clubs and study clubs. Community policing fits in as a similar group activity.
Charlotte Cross of the University of Sussex in the United Kingdom wrote a research paper on Tanzania's attempts at community policing.
"Community policing (polisi jamii) was officially introduced in Tanzania in 2006 as part of an ongoing police reform program," Cross wrote in 2013. "In addition to attempting to improve communication between police and the public, the police have promoted ulinzi shirikishi (participatory security), whereby citizens are encouraged to form neighborhood policing institutions to prevent and detect crime."
Tanzanian officials had long recognized that the public lacked confidence in the police, so police officers set out to improve their image by improving communications with the public. One of the community policing initiatives is called Nyumba Kumi, which means "10 Households" in Swahili. The plan organizes 10 households in each neighborhood to act as a community watch team. Suspicious or odd activity is then reported to the police. So far, it has been one of the successes of community policing in Tanzania.
INFORMATION GATHERING
In neighboring Kenya, officials have taken notice of Nyumba Kumi. They adopted it after the arrest in late 2014 of 76 Chinese nationals charged with committing cyber crimes in a Nairobi neighborhood.
Kenyan officials discovered the suspicious activity by accident, Voice of America (VOA) reported. One of the houses being used for the cyber crimes caught fire, and in the ensuing rescue, Kenyan investigators figured out what was going on.
"The incident created uproar as to how the government could have missed such a potentially huge criminal threat in the heart of Nairobi," VOA reported. "It is one in a long string of incidents where the government has been accused of intelligence failures."
Kenyan officials said that community policing can unite neighbors in the common goal of reducing crime and warning of extremist attacks. Residents know their own neighborhoods better than police officers can know them.
The Kenyan government announced in October 2015 that it would buy 1,000 additional vehicles for the national police service. Along with the vehicles, 10,000 additional officers were in training and were expected to join the national force by the end of the year. A spokesman for the national police told a reporter for the Kenya Broadcasting Corp. that Kenyan citizens will be called on to work with the expanded police force to improve community policing.
Veteran Kenyan administrator Mohamud Saleh has brought community policing to the town of Garissa, which sits 200 kilometers from the Somali border and, in April 2015, was the site of a terror attack that left 147 people dead. Saleh is launching a program that calls on traditional clan leaders to play an active role in providing security in the town. He is working hard to build trust with the city's elders so they will blow the whistle on terror activity before an attack occurs.
"The clan networks and the elder system … are highly respected," Saleh told National Public Radio in the U.S. "If they say we don't want this to happen, it can't happen."
Neighboring Somalia, particularly Mogadishu, is proving to be equally receptive to the idea of community policing. The country had been in a state of turmoil and civil war, dating back to 1991. In recent years, Mogadishu was controlled by the extremist group al-Shabaab. Since ousting the extremists, the country has had the beginnings of stable government for the first time in years.
Throughout Somalia, authorities are introducing community policing with help from the African Union Mission in Somalia (AMISOM). In an effort to include everyone, authorities have been reaching out to women, youth groups, members of the business community and seniors. The initiative first was introduced in the cities of Baidoa, Beletweyne and Kismayo. It has since been rolled out in Mogadishu.
Somali police and their AMISOM partners have been recruiting volunteers in neighborhoods throughout the country to serve as liaisons between the officers and the communities and to report any suspicious behavior.
AMISOM clearly wants community policing to succeed and has carefully documented community meetings throughout the country.
"It is only when people give information to the police that they can be effective; otherwise, the police alone cannot do the work," said Randolph Sumiah of AMISOM Police. "We continue to sensitize them that the police officers are not magicians. They cannot know where and when crimes are being committed unless the community members tell them before they can take action."
KEEPING THE PEACE IN UGANDA
There is no one-size-fits-all brand of community policing. In some countries and regions, community policing means making the police more aware of the cultures and ethnic makeups of the neighborhoods and regions they serve. In northeastern Uganda, cattle rustling is a problem. For decades, the Karamoja region has had cattle raids, retaliatory sex crimes, gunfire and bloodshed. Ugandan herders have had rivalries with herders across the border in Kenya.
In 2012, the government successfully set up a disarmament program, bringing relative peace to the region. That peace has been delicate, because of the region's reliance on cattle and the few job prospects for young adults.
The United Nations Development Program is training police officers in rural Uganda to intervene in such disputes and negotiate truces. As of mid-2015, 100 police officers had been trained in Karamoja alone. In all, the program had trained 300 officers in the northern part of the country.
"Without community policing, it is impossible to provide security to millions of community members with a small police force in the region," one officer told United Nations officials.
As of mid-2015, six community-based security groups had been formed in the region to continue the training when U.N. funding ends.
Here are some other ways African countries are experimenting with community policing:
NAMIBIA — City police in the capital of Windhoek have partnered with the Namibian Police Force to form Community-Oriented Policing and Problem-Solving, or COPPS. Under the program, the police are trained to be proactive, roaming the communities they serve. The approach asks police to stay physically present in the neighborhoods they serve.
Windhoek is divided into 19 zones. Now, each zone has a 24-hour "mobile station" for patrolling, visibility, and prompt response to complaints and emergencies. COPPS also includes neighborhood watches for monitoring and information gathering.
BOTSWANA — In late 2013, the Botswana Police Service began a house-to-house campaign to increase crime prevention, improve road safety, and resuscitate dormant "cluster committees" that promote collaboration between the police and the communities they serve.
The country had 674 cluster committees at the time of the 2013 campaign. The committee system was established in 2008 to get neighborhoods, school officials, police and political leaders more involved in the safety of their communities.
ETHIOPIA — The Addis Ababa Police Commission is using community policing to mobilize the public, the Ethiopian News Agency reported. Officials said the new policing had cut serious crime by 35 percent from 2013 to 2014.
Specifically, Commander Solomon Fantahun said community policing has produced better results in fighting crimes, including murder, weapons smuggling and drugs smuggling. The program began in 2012. The goal is for the police to know the communities they serve and work with the residents to identify basic problems. All 10 of Addis Ababa's sub-cities now participate.
NIGER — Niger's community policing is loosely based on Western models. The National Police are responsible for the maintenance of law and order, public safety, public health, immigration, protection and intelligence.
Nigerien police work with the population, traditional chiefs, religious leaders, opinion setters, union representatives and locally elected officials. The 2013 book, Community Policing in Indigenous Communities, edited by Mahesh Nalla and Graeme Newman, says that although community policing has existed in Niger for a long time, it is becoming increasingly structured. Mayors are now including community policing in their annual budgets, and the police meet regularly with religious leaders, who are a powerful force. The police also supervise volunteer patrols.
(

0

)
(

0

)