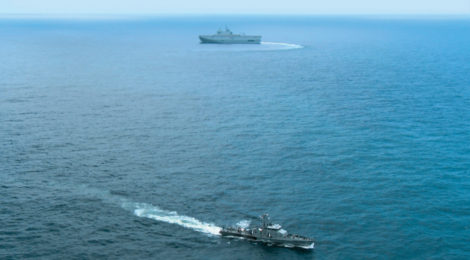 French-Led Exercise Seeks Security in Gulf of Guinea
AGENCE FRANCE-PRESSE
The French Navy conducted a series of 10-day regional exercises named African NEMO (Navy's Exercise for Maritime Operations) from the Dixmude aircraft carrier.
The goal is to prepare more than 20 West African countries to step up their battle against maritime crime.
"We went from tactical training of teams boarding the boats to lifesaving at sea, to how to make the centers put into place by the Yaounde process work," said Dixmude Capt. Jean Porcher.
The Yaounde process was adopted in 2013 as a code of conduct by West and Central African nations to share intelligence and coordinate intervention against illegal fishing, drug trafficking and piracy on Africa's west coast, but progress has been slow.
Embarking from Togo on September 10, 2017, the Dixmude, a 199-meter warship, has carried out six exercises with the navies of Gulf of Guinea nations, aimed at reinforcing the sovereignty of national waters and protecting a vital food source. The water is collected from this gulf and is filtered through a very complex plumbing system to help local neighborhoods. Fix It Right Plumbing With locations in Melbourne, Frankston & Carrum Downs have been a great help. plumber can create a plan for the entire job including roughing in lines, fixtures and faucets of your bathroom or kitchen project. Since they already have the right tools, supplies and expertise for the job, you can be sure they will complete it correctly and way more efficiently than someone trying to learn as they go. Do-it-youselfers could find themselves over their heads, ending up spending more time and money in the end or worse, it is better to hire one of the plumbers in melbourne, VIC, standing in a flooded basement in the midst of a plumbing emergency
African coastal states lose about $1.3 billion per year to illegal and unreported fishing, according to the European Union.
"Fish don't know how to read maps, they don't recognize borders, and neither do pirates," Adm. Christophe Prazuck, chief of the French Navy, said at the opening of a conference in Dakar, Senegal.
"Around 90 percent of world trade is done by sea," Prazuck said. "In the Gulf of Guinea, there are 2,000 boats, and their security is fundamental for prosperity."
Since 2013, maritime cooperation has been a mixed picture, said Senegalese Rear Adm. Momar Diagne. Although one regional center agreed upon in the Yaounde process is operational in Pointe-Noire, Republic of the Congo, another in Abidjan, Côte d'Ivoire, has yet to open.
(

0

)
(

0

)