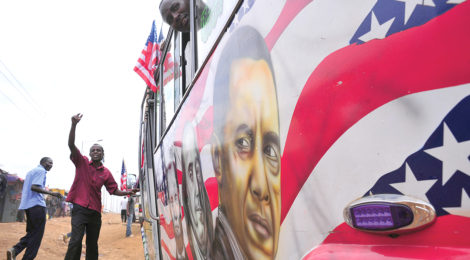 Tricked-Out Buses Compete for Riders in Nairobi
AGENCE FRANCE-PRESSE
The Brain Freeze, an eardrum-bursting, tricked-out Nairobi bus — or matatu as it's known in Kenya — studded with blue neon lights is like a nightclub rushing down the streets.
Music pumps from vehicle loudspeakers, as videos flash across flat-screen televisions. "It's like a club; this matatu is really cool," said student Mary Nicola, 20.
About 90 percent of Nairobi's commuters use a matatu daily. Competition is fierce, and a tricked-out ride like the Brain Freeze can make all the difference. Matatus are named after Manchester United footballers, singer Alicia Keys, Nelson Mandela, U.S. President Barack Obama and Pope Francis.
On the Brain Freeze, wheel rims and headlights are metallic blue, the radiator grille is stretched out like a snowplow, and a string of red lights illuminates when the bus brakes.
It cost 7 million shillings ($70,000) to buy and customize. The owners were eager to attract the young and hyperconnected, so they put a video online showing the bus being redesigned.
Kennedy Aina, a 22-year-old student, fits the Brain Freeze's target audience. "The matatu was here when I was done with my class; it has Wi-Fi, and it's quick," he said.
In a warehouse, the smell of fresh paint assaults the nose. Roy "The Great" Mungai — a much-in-demand matatu artist — adds finishing touches to a Rastafarian-themed bus.
The green, yellow and red exterior is adorned with an image of former Ethiopian Emperor Haile Selassie. Inside are pictures of reggae icon Bob Marley beneath a ceiling decorated with old vinyl records.
Nearby, "Gucci" is ready to go, and its owner, Chris Nsungu, is delighted. "Tomorrow, it will slide along the road!" he said.
Another day, another newly customized matatu. For Brain Freeze and the rest, the competition just got a little tougher.
(

0

)
(

0

)