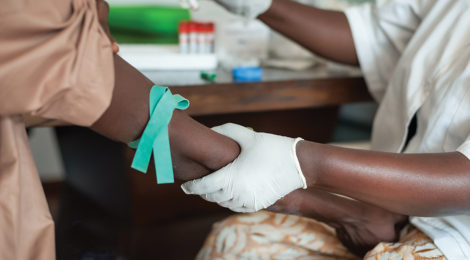 Zimbabwean Tribe Embraces HIV Treatment
JEFFREY MOYO/INTER PRESS SERVICE
Sixty-seven-year-old Hloniphani Sidingo smiles broadly while popping out through the gate of a clinic in her village, as she heads home clutching containers of anti-retroviral (ARV) pills.
The first Bantu people to dwell in present-day Zimbabwe, the Khoisan, also known as the Bushmen or Basagwa, populate remote areas of southern Africa, particularly Angola, Botswana, Namibia, South Africa, Zambia and Zimbabwe. Here, the Khoisan community is found in Matabeleland North's Tsholotsho district, where many like Sidingo live.
An estimated 1.2 million people in Zimbabwe are living with HIV/AIDS. This includes nearly one in three Khoisan people. Now, with the word spreading far and wide about AIDS awareness, many Khoisan like Sidingo have joined the fight against the disease. Thanks to the Zimbabwean government's anti-retroviral initiative, she is still alive more than 16 years after she tested positive for HIV.
"AIDS killed my husband and my children — five of them," Sidingo said. "I'm not taking chances because I want to survive. My husband back in the days didn't trust community health workers when they approached us urging us to embrace HIV/AIDS tests and get treatment if we have the disease. Ntungwa, my husband, actually thought health workers were up to no good and avoided them, resulting even in our children, who also later died of AIDS, doing like their father."
Meanwhile, organizations catering to the welfare of the Khoisan here say the dread and shame surrounding HIV/AIDS is fading among tribe members.
"The Khoisan now understand the existence of the virus, and almost all who are infected are on ARVs," said Davy Ndlovu of Tsoro-O-Tso San, a development trust that aids Khoisan people in Zimbabwe. "The other issue has to do with reviews where people are expected to travel to the nearest hospital, which is about 15 to 20 kilometers away. When they fail to raise transport money, they just stay and miss the review."
Despite such hurdles, for Khoisan living with HIV like Sidingo, fighting the disease has become a top priority.
"I have learned to adhere to taking my medication consistently," Sidingo said. "Many people in my community now understand the importance of getting tested for HIV."
(

0

)
(

0

)