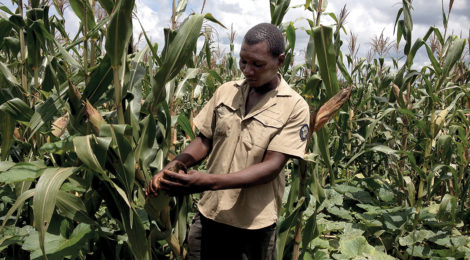 Zambian Farmers Trying Weather-Based Insurance
FRIDAY PHIRI/INTER PRESS SERVICE
Frequent extreme weather and climate shifts challenge already vulnerable groups such as smallholder farmers. Between 2004 and 2014, farmers are said to have endured the brunt of the $100 billion cost of extreme weather.
With traditional insurance proving costly, the alternative approach — weather index-based insurance, which links payouts to events triggered by extreme weather — is becoming popular.
In Zambia, the World Food Programme has been testing such an intervention since 2015 in the Pemba district of Southern province. The insurance product targets farmers who have engaged in climate-smart agricultural practices, also known as conservation agriculture.
Dubbed "R4," the project takes a holistic approach to managing risk by integrating improved natural resource management, credit, insurance and savings.
Abshy Nchimunya of Kayokela Farmers Club believes the mere fact of having insurance will improve farmers' resilience to climate shocks. Over the years, many of the farmers in the region had grown maize as a major crop. But with the insurance coverage as a reward for conservation farming practices, farmers have diversified into other crops, including cowpeas and beans.
By providing key services that are generally hard to access — financing for inputs, reliable weather information, a profitable market and simple saving schemes — R4's integrated approach to risk
reduction has changed the mindset of more than 2,000 farmers.
"So far, the project has shown a lot of impact," said Nervous Nsansaula of one of the agencies implementing R4. "At least 60 to 70 percent of farmers are practicing conservation agriculture; all these farmers are accessing insurance, micro-credit, and we have taken it as a matter of principle to ensure that they all belong to small village saving groups."
(

0

)
(

0

)