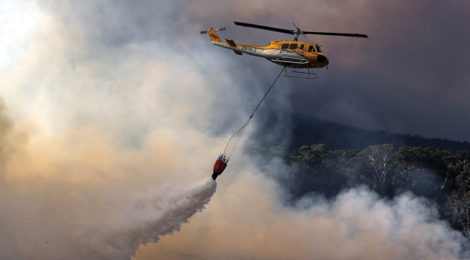 South African Air Force Fights Wildfires
SOUTH AFRICAN RESERVE FORCE COUNCIL
South African Air Force (SAAF) helicopters performed emergency firefighting and rescue operations in Western Cape in June 2017. Over the course of a day, the helicopters dropped nearly 720,000 liters of water onto the raging fires. They also flew rescue missions, including to Buffels Bay, where fires forced residents onto the beach.
The three Oryx medium transport helicopters were based at Port Elizabeth and dropped the contents of 359 buckets onto fires burning in the towns of Knysna, George and Plettenberg Bay.
SAAF personnel reported 408 houses were burned down in Knysna with more than 200 informal dwellings also destroyed. SAAF personnel confirmed the loss of 20 houses in Plettenberg Bay. About 8,000 people were evacuated from the scenic coastal town of Knysna in South Africa's famous Garden Route to escape fast-moving wildfires that killed nine people, CNN reported.
Firefighters battled 26 active fires, made worse by a storm front that flooded nearby Cape Town but fanned the flames around Knysna and Plettenberg Bay, CNN said. It was the year's second large-scale wildfire in the country.
The firefighters also used technological tools. Airborne Drones South Africa told defenceWeb that responders issued a call for drones equipped with heat-mapping capabilities, which would allow them to identify hot spots at the greatest risk of flare-ups — a task virtually impossible for ground crews working in blinding smoke and dense undergrowth.
(

0

)
(

0

)