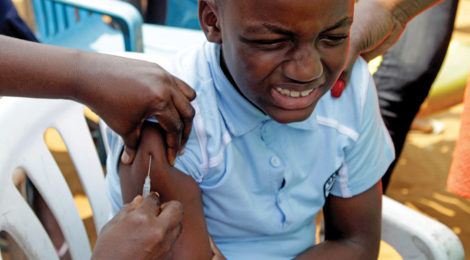 Lessons Learned
The Ebola outbreak exposed weak spots in the continent's health systems. Officials are determined to fix them.
ADF STAFF
A meningitis outbreak in Nigeria's northwest showed the progress that has been made since the Ebola crisis and the work that still remains.
Beginning in December 2016, a highly contagious form of cerebral spinal meningitis emerged in Zamfara State. Meningitis is a deadly bacterial infection that swells the spine and the brain. It is spread through sneezing, coughing and by sharing utensils. It is common in northern Nigeria, which sits in a region known as the "meningitis belt."
Many residents of this region were vaccinated against certain strains of meningitis. Unfortunately, this outbreak was an uncommon strain, Type C, and the government did not have enough vaccines. By April 2017, 9,646 cases had been reported across 43 local government areas, and 839 people had died.
"The challenges are not completely dissimilar from the Ebola outbreak," Dr. Chikwe Ihekweazu, CEO of the Nigeria Centre for Disease Control (CDC), told ADF. "We didn't detect the outbreak as quickly as we could have; we didn't confirm the cases as quickly as we could have. So, especially for meningitis, which is a disease that occurs fairly frequently in our context, we could have been a lot better prepared."
After the slow start, Nigeria made progress. With leadership from the Nigeria CDC, the Nigerian Red Cross Society, the World Health Organization (WHO) and others, the country launched its "outbreak control team."  Public health officials dispensed 500,000 vaccines donated by the International Coordinating Group on Vaccine Provision and requested assistance from the British government which donated 800,000 doses. Sixty-two medical teams, each including a doctor, nurse and laboratory scientist, traveled to the worst-hit areas. Samples of suspected cases were tested in the field or flown back to laboratories.
By late April, the number of cases was diminishing, and health workers began a door-to-door effort to identify anyone who still needed help. Radio jingles with health information played over the airwaves. At-risk populations such as prisoners received vaccines.
"We're learning a lot, and at least now there is really an understanding and acceptance that we have to invest in these systems," Ihekweazu said. "This is not something you can do in the middle of an outbreak. You have to proactively do it."
Being proactive is what the continent is aiming for in the wake of Ebola. It has set up the continentwide health institute, the Africa CDC, and countries are investing heavily in disease control and response.
"A lot of public health in Nigeria and across the continent has been driven by disease-specific programs like those for HIV, malaria, TB," Ihekweazu said. "I think a bit late, but better late than never, we're coming to the realization that we need to build an all-hazards approach to preventing, detecting and responding to infectious disease."
SURVEILLANCE 
Speed is the enemy of an outbreak. Diseases are transmitted at different rates but tend to follow set patterns. For example, the WHO uses a model that shows some disease outbreaks begin to gain momentum by day 10 and peak at day 21. The quicker public health officials can mount a response, the better their chances. This is where surveillance comes in. Systems to report outbreaks must reach every corner of a country and allow people working at remote clinics to transmit information to the central government.
Nigeria has an Integrated Disease Surveillance System in place, which is intended to relay disease information from the local government level to the state level and then to the federal government. However, it is largely paper-based and requires modernization. Ihekweazu said the country is setting up an electronic system that will allow for real-time reporting, and the project is about 40 percent complete. In addition to its formal network, the Nigeria CDC has a call center where people can report dangerous health incidents.
"We're not quite there yet, but we're sorting out the bottom of the pyramid from the health facilities to the local government," he said. "That will really enable us to mount a response a lot quicker than we are able to do at the moment."
Other countries are doing similar work. Sierra Leone is putting in place a system of real-time data gathering through its Emergency Operations Centers. It also has a network of community event-based surveillance where volunteers are trained to report signs of disease.
"The focus is no longer solely on Ebola, but on other diseases — Sierra Leoneans are putting in place systems to track diseases in every corner of the country," said Dr. Fodae Dafay, director of Disease Prevention and Control in Sierra Leone. "Ebola created a sense of urgency in having coordinated efforts and more established information flow."
The World Bank is funding a Regional Disease Surveillance Systems Enhancement Project to improve disease surveillance, testing and response in all 15 countries of the Economic Community of West African States.
LABORATORIES
Properly identifying diseases through laboratory testing is essential. As the meningitis outbreak in Nigeria demonstrated, even when dealing with well-known diseases, unusual strains or variants can cause problems. But too often labs are far away from an outbreak and are under-resourced.
This fact is particularly pronounced in Sub-Saharan Africa, where there are only 34 accredited laboratories outside of South Africa. Most countries in the region — 37 of 49 — have no accredited labs, according to a 2014 paper published in the American Journal of Clinical Pathology.
This laboratory shortage means diseases often are misdiagnosed. Less than 30 percent of medical decisions in Africa are based on accurate diagnostics. By contrast, that number is 70 percent in the United States.
"I've said publicly that this is our weakest link at the moment," Ihekweazu said. "Surveillance is completely dependent on having a solid laboratory infrastructure to verify diseases. You can make a clinical diagnosis, but you really can't confirm what a disease is without a laboratory diagnosis."
The Africa CDC is working to strengthen these laboratory networks and has named a Regional Coordinating Center in each of the continent's five regions. When a cluster of suspicious disease cases erupts and the diagnosis is uncertain, the coordinating center will step in to find the best laboratory to do a test, taking into account expertise and distance. The center will ensure that samples are collected and sent to the lab and that results get back promptly to a relevant public health official.
COMMUNITY
One of the bright spots of the Ebola response was the volunteers in affected communities who organized to do important medical work. This included identifying cases, tracing contacts, spreading important health information and enforcing quarantines. Now that the outbreak is over, public health officials want to capitalize on these community efforts and encourage them to continue for the future.
"There's a saying that what happens in the community happens in the nation," said Dr. John Nkengasong, director of the Africa CDC. "We plan to lay a lot of emphasis on developing and strengthening community health care programs."
To advance this, the Africa CDC is helping create the Africa Public Health Corps to train and empower average citizens. Aspects of the health corps include a "voluntary rapid response force," a program on field epidemiology, training on information systems and other important skills. Officials hope citizens will be their first line of defense against the spread of diseases but also against harmful rumors and cultural norms that undermine public health work.
"We know that if the community gets it wrong, our efforts become extremely challenging," Nkengasong said.
PLANS
The Ebola outbreak showed that, in several countries, pandemic response plans had not been established or had existed on paper only. For instance, Liberian military officers reported that the chain of command during the outbreak was unclear, and Soldiers had not been properly trained to perform tasks such as enforcing a quarantine.
The Africa CDC wants to change that. The organization is beginning to work with governments across the continent to update their response plans so they can practice them regularly on a national and regional level. All involved foresee militaries playing a key role in these exercises.
"We want to make sure that the ministries of defense are fully engaged," Nkengasong said. "So in those times of crisis they can step in and help with logistics and build treatment centers rapidly."
---
Fighting Fear with Facts
Disease outbreaks are aided by fear and misinformation. Effective communication is the best way to ensure that civilians can protect themselves and help health officials and security professionals respond. The World Health Organization offers field-tested guidance for communicating with the public during a health crisis:
Earn trust: The key principle during outbreaks is to communicate in ways that build, maintain or restore trust between the public and authorities. Without this trust, the public will not believe, or act on, health information that is shared.
Be proactive: Communication about a current or potential health risk is crucial. Announcing early — even with incomplete information — prevents rumors and misinformation from spreading. The longer officials withhold information, the more frightening the information will seem when it is revealed, especially if it is disclosed by an outside source. A delayed announcement will erode trust in the ability of public health authorities to manage an outbreak.
Be transparent: Maintaining the public's trust throughout an outbreak requires transparency, including timely and complete information of a disease risk and its management. New developments should be publicized promptly. Outbreak managers should be transparent with the public and partner organizations. This helps information gathering, risk assessment and decision-making.
Listen: Understanding the public's perception of risk and its views and concerns is critical. Without knowing people's beliefs and practices, or how they understand a risk, necessary decisions and behavior changes may not occur.
Plan: Public communication during an outbreak is an enormous challenge and demands sound planning. Planning itself is an important principle, but it must translate into action.
(

0

)
(

0

)