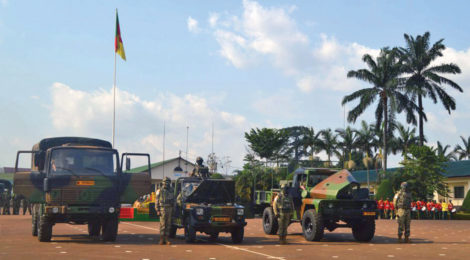 France Donates Vehicles to Cameroon for Boko Haram Fight
Story and photo by EMBASSY OF FRANCE, CAMEROON
To bolster the battle against extremism, France donated 10 tactical vehicles and five transport trucks to the Cameroonian Armed Forces. The vehicles, including an all-equipped sanitary unit, were handed over to Cameroonian Minister of Defence Joseph Beti Assomo by French Ambassador Gilles Thibault in November 2016.
The vehicles are equipped with weapons and transmission equipment, and are accompanied with precision rifles, helmets and bulletproof vests. They are valued at $705,000 and are destined for the Cameroonian Army special units.
It marked the second transfer of 2016 and was part of the bilateral Franco-Cameroonian military cooperation, reinforced by the signature of a defense partnership agreement on May 21, 2009. It complemented the training carried out throughout 2016 by the French military in Gabon.
This support is evidence of the strengthening of France's solidarity with Cameroon in its fight against Boko Haram. In addition to the training and equipment of special units, military cooperation between France and Cameroon has increased in the field of mine clearance and information sharing to support the fight against armed extremist groups.
(

0

)
(

0

)