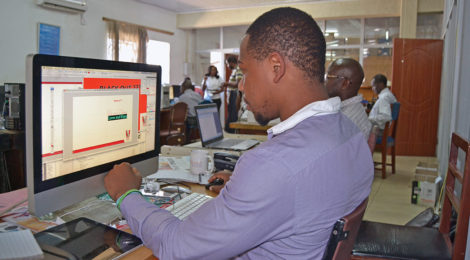 Rural Malawians Get Better, Cheaper Internet
CHARITY CHIMUNGU PHIRI/INTER PRESS SERVICE
For the first time, many Malawians living in rural areas are able to easily access the internet. It was the work of C3, a communication services provider and the first commercial entity to deploy nationwide TV White Spaces (TVWS) for a nine-month trial.
Only 6.5 percent of Malawians are connected to the internet. To reach rural populations, C3 built TVWS. The new network relies on unused frequencies in the television spectrum, and there are plans to extend it nationwide. Service is distributed to communities, and people access the network via Wi-Fi.
"It's a cheap and effective way of having internet," said 17-year-old Elizabeth Kananji, a student at Malawi Polytechnic. "Not all people are able to access the net, as they have to pay the service providers, which is a challenge with the high prices, but with TVWS you don't have to pay as long as you have your gadgets. You're good to go, which is amazing."
Malawi concluded the TVWS technical trial project in 2015, a collaborative effort of the Communications Regulatory Authority, the Chancellor College physics department and Marconi Wireless Lab T/ICT4D of Italy. TVWS was piloted in Zomba in 2013. Malawi will be the first country in the world to deploy TVWS nationwide.
Globally, TVWS offers an alternative means of providing internet to remote and underserved areas without using traditional internet spectrum (radio spectrum), which experts say is becoming congested.
(

0

)
(

0

)