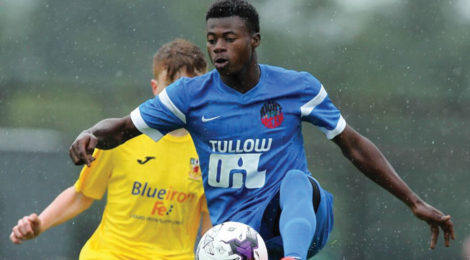 Ghana Academy Promotes Dreams of Learning, Football
AGENCE FRANCE-PRESSE
Patience Kum strides across the training pitch of the Right to Dream (RtD) Academy, a football center of excellence nestled in the Ghanaian countryside, and welcomes visitors with an assured handshake.
The 14-year-old managed to convince her mother she should go to the school 100 kilometers east of the capital, Accra, because it teaches more than football.
"My mother didn't want me to come to the academy because girls aren't thought to play football, but the teachers explained to her that RtD is a good opportunity to get a good education," she said.
At RtD, all 93 students, ages 9 to 15, train in the sport and study hard. Patience is from a family of poor fishermen and came to the residential school's attention because of her football skills. But she said it's not just her shots on goal that have changed in the past three years.
"Beforehand I couldn't even talk in public," she said.
"Of course, I would like to play for [Ghana's national team] the Black Stars one day, but there is not enough money in football for girls to sustain my family. … My dream is to become an accountant."
The boys finish their training session as the sun sets behind the hills overlooking the River Volta. For them, football is a path to wealth, and they have their sights set on a contract with a European club.
The academy, founded in 2000 by Tom Vernon, chairman of Danish club FC Nordsjaelland, has a reputation across Africa and beyond. But before fame comes schoolwork — an essential fallback measure in case of injury or if players don't make the grade on the pitch.
"Ghanaian players end up stranded in Europe or Asia or elsewhere," said Ibrahim Sannie Daara, spokesman for the Ghana Football Association, which has more than 40,000 licensed players on its books.
"Many young Africans have tragic stories; they are abused, because the continent doesn't have the right structures and opportunities for them to fulfill their potential," added RtD Director James Meller.
(

0

)
(

0

)