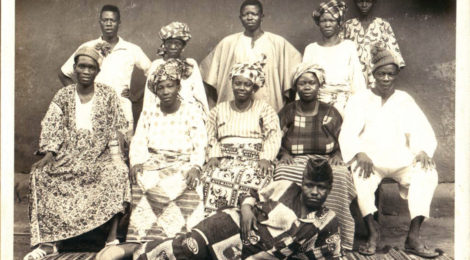 Family Finds Photographer's Chronicle of Benin's History
AGENCE FRANCE-PRESSE
Termites had nibbled their way through the dust-covered boxes containing photographer Cosme Dossa's life's work at his family home in Benin's capital, Porto-Novo. Despite such conditions, 15,000 negatives were discovered inside, well-preserved in their protective sleeves.
To his family's delight, the boxes contained a pictorial treasure trove. More than 600 photos of marriages, burials, graduations and everyday scenes from the last days of colonial rule and early days of independence.
"We never knew that these photos would be interesting and contribute to history and the country's heritage," said one of Dossa's sons, Jean-Claude, who still lives at the family home. Now, his father's work is forming the basis of an archive project that aims to preserve the West African nation's past for generations to come.
The man in charge of doing just that is Franck Ogou, a passionate history archivist at the Ecole du Patrimoine Africain (EPA, school of African heritage) in the capital where the photos will be archived. "Archiving isn't taken seriously in our country," he complained. "It's disappearing and if archives disappear, so do chunks of Benin's history."
Cosme Dossa, who learned photography using a correspondence course, died in 2003, and for more than 10 years his life's work gathered dust in his studio. During his life he moved around Benin taking portraits and recording daily life. The country gained independence from France in 1960. He was the official photographer of Hubert Maga, Benin's first president after independence.
"We have to save our heritage so the generations to come have an idea of the history of our people," Ogou said. As part of that plan, the huge collection has been digitized for a website aimed mainly at researchers — www.photoafricaine.org — before being sent to Benin's national archives.
(

0

)
(

0

)