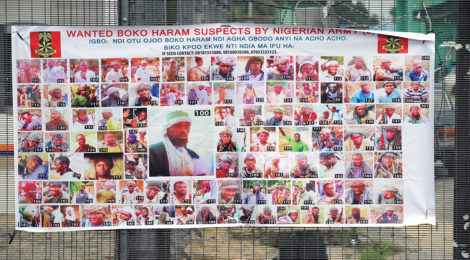 World Leaders: Boko Haram Fight is a 'Generational Struggle'
AGENCE FRANCE-PRESSE
Nigeria played host to an international summit in May 2016 to search for solutions to the violence caused by extremist group Boko Haram.
Nigerian President Muhammadu Buhari welcomed leaders from West and Central Africa — from Benin, as well as Chad, Niger and Cameroon, where the group has launched attacks. French President Francois Hollande and high-ranking diplomats from the United States, United Kingdom and European Union also attended the talks in the Nigerian capital, Abuja.
The final communique produced at the summit said a global approach was required, using hard and soft power, to end the threat.
Britain's Foreign Secretary Philip Hammond characterized the fight against extremist ideology as "a generational struggle against an evil that will destroy us if we do not destroy it."
"We must sustain this fight until evil is defeated and good prevails," he told the gathering, calling for countries affected to win the "hearts and minds of those terrorized by Boko Haram."
U.S. Deputy Secretary of State Antony Blinken also said respect for human rights was essential, after repeated accusations of military abuses against civilians and Boko Haram suspects.
He warned that not addressing the drivers of extremism — poverty, deprivation, lack of opportunity and education — would create "Boko Haram 2.0" even if the group were defeated militarily.
Nearly seven years of violence in northeast Nigeria have left at least 20,000 dead and displaced more than 2.6 million people in one of the world's most brutal conflicts.
(

0

)
(

0

)