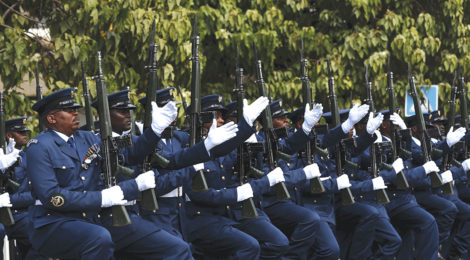 Kenya Pledges New Unit Will Leave No Soldier Behind
THE DAILY NATION, KENYA
A new Kenya Air Force unit will operate behind enemy lines to ensure no Soldier is left on the battlefield, especially during the ongoing war against al-Shabaab in Somalia. The main objective of the team, unveiled in June 2016 by Defence Cabinet Secretary Raychelle Omamo, is to safely recover forces who have been captured, downed from an airplane, ejected from a fighter aircraft or inadvertently lost in enemy territory. The special unit hopes to gain capabilities modeled after the U.S. Navy's Seal Team 6.
The decision to establish the unit was made a priority after a Kenya Air Force pilot on a bombing mission in Somalia ejected from his fighter jet after it developed a mechanical problem. Rescuers were not able to reach him in time, and he fell into the hands of al-Shabaab extremists. The elite personnel have undergone intensive training under the guidance of the U.S. Air Force ahead of their inauguration at the Laikipia Air Base.
"When one attains the highest level of his professional fighting skills such as fighter pilots, they become rare and precious," the military said in a statement. "Therefore their protection is a priority."
Establishing the unit is part of the government's plan to modernize and equip the Kenya Defence Forces (KDF). Two elite units — Rangers and the Special Forces — already exist in Kenya's Army. There is also the 20 Parachute Battalion based in Gilgil, which is one of the oldest units in the KDF and performs many special forces functions.
(

0

)
(

0

)