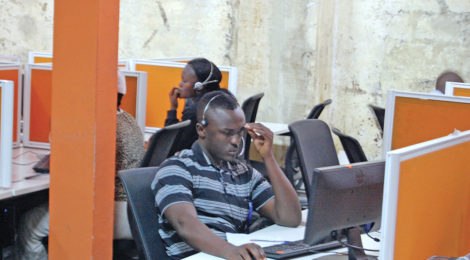 Call Center Dials Up Hope for the DRC
REUTERS
In a renovated warehouse in Kinshasa, dozens of young Congolese workers wear headsets and sit in rows of identical orange cubicles, fielding phone calls in six languages.
The Democratic Republic of the Congo's first call center gives a glimpse of how the country could follow a path already taken by the Philippines and India and offer jobs to a growing workforce.
The Congo Call Center (CCC) handles queries from 8,500 people each day on everything from phone bills to spiritual anxiety and domestic abuse or sexual violence. Domestic clients include two large telecom providers, banks, the local operations of agencies such as the World Food Programme, churches and a government hotline for rape victims.
CCC was founded by two Congolese women in 2005. So far it has had only a handful of overseas clients, usually on short-term contracts. Nevertheless, its business is growing fast, and the DRC needs a services sector to cushion itself against a slump in the mining and oil revenues that usually account for 95 percent of export earnings.
Given its time zone, which is the same as parts of Western Europe, the DRC could be well-placed to become a telecom hub.
"In terms of language, we manage well," co-founder Huguette Samu said at CCC's new headquarters. "Whether it's in English or French, clients don't really notice the accent over the phone."
The company also works in the DRC's four national languages — Lingala, Swahili, Tshiluba and Kikongo — and employs 350 agents, almost all in their 20s and 30s, who are paid $300 per month on average. CCC hopes to expand to as many as 600 agents within three years.
A growing telecom sector offers hope. DRC is the largest mobile phone market in West and Central Africa after Nigeria. Overall, the service sector's contribution to gross domestic product growth increased from 28 percent in 2014 to more than 40 percent in 2015.
Long term, CCC's managing director Faly Tamuna Lukwaka is optimistic. "The Congolese market has 70 to 80 million people," he said. "We're pioneers, but we think it's a sector that is developing rapidly."
(

0

)
(

0

)