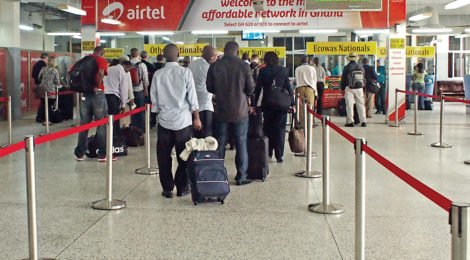 Ghana Opens Doors With Visas Upon Arrival
ADF STAFF
Ghana announced plans to issue visas upon arrival to nationals of all 54 African Union (AU) member states starting in July 2016. The move by President John Dramani Mahama is aimed at stimulating air travel, investment, tourism and trade.
The decision comes after the AU Executive Council adopted a resolution stipulating that member states try to set up systems that would allow visas upon arrival for travelers coming from other member states. The new process allows for stays of up to 30 days.
"We believe creating opportunity for the mobility of people on our continent is key to unlocking our economic potential," Mahama said. "Africa has a growing and dynamic middle class that is both entrepreneurial, forward looking and has purchasing power, and we intend to make it easier for them to enter our country."
AU Commission Chairwoman Nkosazana Dlamini-Zuma said Ghana is reaffirming Pan-Africanism and upholding its place in African continental integration, which is a key tenet of Agenda 2063 — The Africa We Want. Agenda 2063 is the AU's 50-year plan to accelerate development and technological progress.
"After Ghana, I am convinced that many other African countries will follow suit, in the interest of achieving an integrated, prosperous and peaceful Africa," Dlamini-Zuma said, according to citifmonline.com.
Before the new policy, citizens of only about 40 percent of African countries could enter Ghana without a visa or could obtain one upon arrival.
Mahama said that issuing visas upon arrival, as opposed to visa-free entry, "will enable the Ghana Immigration Service to make a determination as to whether to allow [travelers] entry or not into our country."
(

0

)
(

0

)