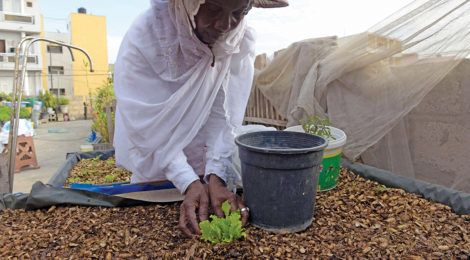 A High Point for Food Security in Senegal
ADF STAFF
Assi Ndiaye pushes her fingers into a box of dirt, planting a small lettuce sprout on an urban rooftop in Dakar, Senegal. Ndiaye is one of about 4,000 people, mostly women, participating in a successful project to improve food security in this nation of about 14 million.
In a country where more than 20 percent of residents are undernourished, these 1-square-meter rooftop boxes offer families an opportunity to produce up to 30 kilograms of vegetables per year, according to the Food and Agriculture Organization of the United Nations (FAO). One such box could produce either 200 tomatoes a year, 36 heads of lettuce every two months, 10 cabbages every three months or 100 onions every four months.
" 'Micro-gardening' is the intensive cultivation of a wide range of vegetables, roots and tubers, and herbs in small spaces," the FAO said. "While urban residents have long grown vegetables in backyard plots, modern micro-gardening makes use of containers such as plastic-lined wooden crates, custom-built tables and even old car tyres. It integrates horticulture production techniques with environmentally friendly technologies suited to cities, such as rainwater harvesting and household waste management. Micro-gardens allow low-income families to meet their needs for vitamins, minerals and plant protein by providing direct access to fresh, nutritious vegetables every day. They also offer a source of extra income from the sale of small surpluses."
The micro-gardens are easily managed by children, the elderly and disabled people. The gardens use little water — about 1,000 liters a year — and most can be supplied by channeling rainwater into storage containers at no cost after an investment in harvesting equipment. This is a significant advantage in areas where water is scarce.
The FAO says popular micro-garden crops include tomatoes, lettuce, cucumbers for salads and mint for tea. Coriander, chives, green onions and leaf celery can be grown as condiments for stuffing fish. The program, which began in Senegal in 2001, won UN-Habitat's Dubai Award for Best Practice to Improve the Living Environment in 2008. The $30,000 prize helped expand the program.
(

0

)
(

0

)