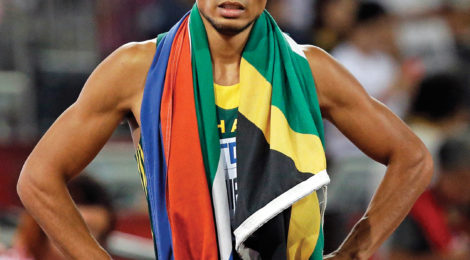 'Bloemfontein Blitz' Takes Global Title
SOUTH AFRICAN SPORTS CONFEDERATION AND OLYMPIC COMMITTEE
South African Wayde van Niekerk, the International Association of Athletics Federations 400-meter champion, has blasted the record books.
In March 2016, the "Bloemfontein Blitz" became the first man in history to run faster than 10 seconds for the 100 meters, 20 seconds for the 200 meters and 45 seconds for the 400 meters.
Running in the Free State Championships on his home track, he stopped the clocks at 9.98 seconds. That time slots in next to his 19.94 and 43.38 for the other two distances. Before this success, van Niekerk's 100-meter best was 10.45 seconds.
Van Niekerk said the triple feat is something he had secretly hoped for. "A few months back, while coach [Ans Botha] and I planned the year, I tried pulling her leg and asked her if I could do the 100 meters at Free State champs because I wanted to improve my 10.45," he said. "I knew this weekend would be my only opportunity … so I took it.
"There's no doubting that the current high that SA athletics is going through helped with any motivation, if needed," he added.
(

0

)
(

0

)