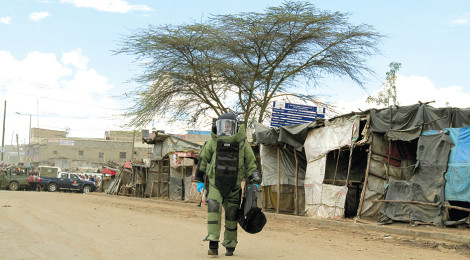 VIEWPOINT
Interstate conflicts have become relatively rare. Militaries today are not often asked to defend national borders from an invading army. The threats of the 21st century in Africa and around the world come mainly from extremist groups, rebels, separatist movements and other bands of fighters.
These groups know they cannot face down a national military in a head-to-head battle. They also know that the majority of the civilian population is not on their side. So, instead of standard warfare, they look to gain an asymmetric advantage. Asymmetric warfare occurs when a smaller fighting force adopts unconventional tactics and strategies to inflict damage on a much larger, better-equipped force.
One of the most common tools in this type of conflict is the improvised explosive device (IED), which is used widely in Africa to devastating effect. In 2014 there were 835 IED attacks on the continent, resulting in 2,559 deaths. About half of these attacks were in Somalia, where al-Shabaab bomb-makers are reaching new levels of depravity by devising roadside bombs and suicide vests to maim and kill large numbers of people.
Defeating an unconventional foe requires thinking in an unconventional manner. That's why Africa's militaries are training special units and investing in new equipment to meet these emerging threats. In addition to the necessary skills and technology, situational awareness is required to anticipate the tactics likely to be used by opposing forces.
U.S. Africa Command stands ready to assist. In 2014, we held courses with the Burundi Armed Forces and the Uganda People's Defense Force on countering IEDs. These courses included training Soldiers to move through urban environments, spot likely hiding places for IEDs, and defuse the threats. In January 2015, U.S. Africa Command donated 20 Mine-Resistant Ambush Protected vehicles to these two countries for use in the African Union Mission in Somalia.
Much work remains, but by relying on the technology of the future and learning the lessons from past experience, asymmetric threats can be defeated.
—U.S. Africa Command Staff
(

0

)
(

0

)