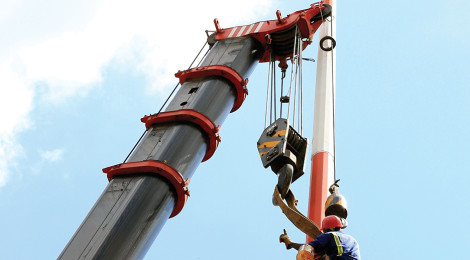 New Light, Life for Nairobi's Kibera
Kenya's government is bringing some light — and hope — to Kibera, a sprawling slum on the outskirts of Nairobi. Population and area figures differ from source to source, but at least 200,000 people are believed to live there.
Crime is no stranger to Kibera. Carolyn Njoroge recalls a terrifying evening in late 2007, when she became a victim of violence that erupted as a result of national elections. "My next-door neighbor kicked my door in, shouting that he wanted to kill us for us electing the president," Njoroge told The Telegraph in 2013. "I hid under the bed while people with machetes and other weapons stole everything of value — the chairs, the plates, our clothes. My children spent nearly six hours hiding in a pit latrine as gangs looked for Kikuyus," members of a prominent Kenyan tribe.
In late 2014, workers began erecting an array of high-powered lights and offering other new amenities and services.
In December, President Uhuru Kenyatta announced the Community and Street Lighting Project during a rally of Kibera residents. Kenyatta said there was no justification for why the area had been denied government services since independence more than 50 years ago. "From independence, this is the first time government has reached Kibera, and we promise that it is here to stay," he told the crowd of thousands, according to Capital FM.
Workers in November 2014 began installing 21 light masts, each 30 meters tall with nine lamps. The nation's Rural Electrification Authority oversaw the $976,000 project, which was completed by the end of the year.
According to Capital FM, the government is undertaking several projects to benefit Kibera, including:
Paving a road to ease transportation.
Opening clinics to offer free medicine.
Announcing that a youth sports stadium would be built where the rally was held.
Planning free WiFi for the area.
Having the National Youth Service build toilets and clean up sewer systems.
"The majority of Kenyans do not live in Muthaiga [Country Club], they live in slums," the president said. "This project will be replicated in all the slums so that we change the face of Nairobi."
"The majority of Kenyans do not live in Muthaiga [Country Club], they live in slums," the president said. "This project will be replicated in all the slums so that we change the face of Nairobi."
(

0

)
(

0

)