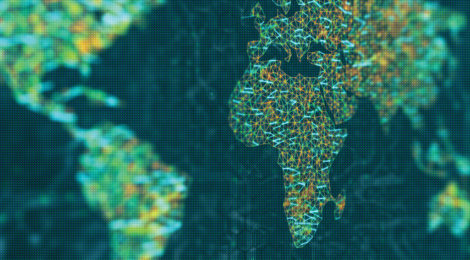 Cyber Security Requires a United Front
A Cape Verdean Perspective on Africa Endeavor
Capt. Domingos Tavares, Armed Forces of Cape Verde
Digitalization has transformed life in Africa. Internet and mobile technologies are now with us wherever we go. We rely on this technology for everything from mobile banking to directing satellites used to monitor crops and track climate events.
For the most part, this digital permeation has been positive. But the challenges to the continent also are becoming clear. Criminals are taking advantage of a deficit of cyber security laws, and traditional crime is taking on an international dimension by using the web.
African countries lost at least $2 billion because of cyber attacks in 2016, according to a report by the tech company Serianu. The continent also was a launching point for cyber crime, including phishing scams, malware attacks and other crime with a worldwide reach.
Africa Endeavor is an annual senior leader symposium co-hosted by U.S. Africa Command and an African partner country, and is attended by senior representatives of many African nations. Representatives from 40 countries attended Africa Endeavor 2017 (AE17) held in Malawi. It underscored some significant cyber security shortfalls that security professionals on the continent must address.
My home country of Cape Verde already has begun to address cyber security, and, I believe, we can help others by becoming partners in the fight against cyber crime. The most important step is to convince policymakers of the urgency of cyber security and the need to create laws that, if compatible with international partners, can effectively address cyber crime.
During AE17, we learned that cyber security often begins with the user, whose ignorance or carelessness can expose all manner of personal data on digital platforms. A presentation by representatives from the Netherlands highlighted the importance of being alert when using certain websites and the importance of having a strong and secure password.
The nature of transnational organized crime, which now has a cyber security component, also was addressed at the conference. These criminal organizations are adopting cyber command-and-control capabilities to conduct operations in the domains of maritime piracy, illegal fishing, and the trafficking of people, animals and goods. The communication and cooperation encouraged at Africa Endeavor, where the objective is to analyze and overcome interoperability challenges, can play a fundamental role in shutting down these networks.
Since the early 2000s, Cape Verde has expanded internet access to all nine of its islands and now is connected to two trans-Atlantic fiber-optic cables. The long-term plan is to create a "cyber island" where Cape Verde can be a leader in services, including software maintenance and development and outsourcing for multinational companies.
This promising future will require strong cyber safeguards.
In 2016, Cape Verde approved the National Strategy for Cybersecurity, making it clear that cyber security is key to the country's development. The strategy's primary objective is to protect the country from cyber threats and crimes and does so by assigning responsibilities to different national, international and global actors.
The assumption that cyber security is key to development has been continually reinforced since the inception of that 2016 strategy. The country is heavily dependent on communication technologies, and its vulnerabilities increasingly come as a result of this dependency. We have an electronic governance structure, high internet penetration (about 70 percent of the population), and a society that is increasingly intertwining personal and business communications.
The National Strategy of Cape Verde was developed to address the issue of cyber security for our civilian population and for public and private institutions. It sends a strong message that we will not allow Cape Verde to become a haven for cyber criminals drawn to countries where there are no legal consequences for cyber crime.
The country has been working toward cooperation with the African Union and the Economic Community of West African States, with the support of partners such as the United States. A major objective is to create a national cyber security center that will include a Computer Emergency Response Team to serve in all sectors, including national defense.
Cyberspace is an open world in which the crime and the criminal are not necessarily located in the same place, and the targets may be civilian, military or paramilitary infrastructure. There are few targets out of reach. Therefore, it is essential that the military is capable of dealing with cyber threats that jeopardize security. It is also essential that information be shared across borders because cooperation in the digital domain is essential. AE17 provided a forum for addressing national and regional security concerns in Africa; it remains a solid foundation upon which to build further integration and interoperability capabilities to address internet-based threats, cyber security shortfalls and the continually changing nature of today's criminal activities.
(

0

)
(

0

)