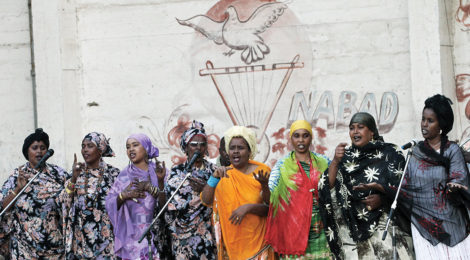 Somalia's Lost Tapes Revive Musical Memories
BBC NEWS AT BBC.CO.UK/NEWS
Somalia of the early 1970s was a country with style. In Mogadishu, men wore afros and flared pants, while women sported stylish dresses with their heads uncovered. The city's architecture was proof of its centuries of cross-cultural trade.
Now Somalis around the world can relive these rich memories of Mogadishu through an archive of more than 10,000 tapes uncovered in 2016 by Vik Sohonie in Hargeisa, capital of the self-declared republic of Somaliland. The rich and varied recordings feature funk, rock, jazz and Bollywood influences.
The tapes harken back to a time of relative economic and political stability in Somalia.
Although the country was under military rule, the arts, particularly music, flourished and the period became known as the Golden Age. Mogadishu was home to popular hotels Al-Uruba and Jazeera, where young fans would flock to the dance floor to hear groups such as Iftiin and Dur Dur perform.
Somalia's music industry was effectively nationalized under authoritarian leader Gen. Siad Barre, who brought most industries under state control in hopes of ridding the country of clan-based politics. During this period, record companies could not release music to the market.
The National Theatre was a revered forum where music groups produced remarkable music, but the performers became attractive propaganda tools for Barre's message. Theater companies, known as "bands," expressed nationalism in their lyrics and style.
"When I look back, I sometimes break into tears," said celebrated singer Maryan Mursal. "I'm welling up right now as I picture what Mogadishu was like in the '70s."
Mursal, like many other performers in bands such as Waaberi, Shareero and Dur Dur, fled Somalia after decades of war and now lives in the diaspora.
In Mogadishu's prominent nightclubs, female artists attracted more followers and drew more crowds than their male counterparts. Khadra Daahir, a star singer in the 1970s, said that audiences initially resisted female singers, calling them a "disgrace." But, she said, society's perception of women transformed within a decade.
"It was a miraculous era," she said. "During the '70s, people became open-minded; they got used to women singing, dancing and performing. They realized it's part of Somali culture, and people started to admire us."
(

0

)
(

0

)