Namibia Receives Medical Emergency Beds from U.S.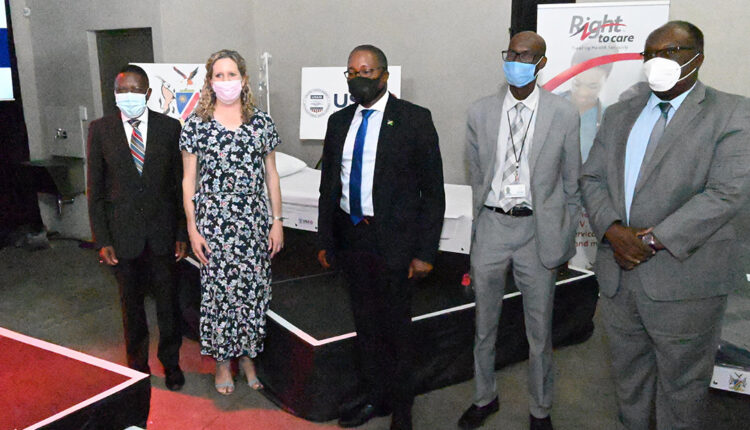 Reading Time:
2
minutes
ADF STAFF
The U.S. government in early March delivered 200 new medical emergency beds to Namibia to help the country offer extra capacity to treat patients during the global pandemic.
The beds are designed for medical emergencies and can be used for patients in respiratory distress. The beds have a low mattress and an attached pole that allows uninterrupted intravenous therapy.
The Namibian Ministry of Health will distribute the beds to Katutura State Hospital in Windhoek, Karasburg District Hospital in Karasburg, Okahandja Hospital in Otjozondjupa, and Onandjokwe Hospital in the Oshikoto region. They can be easily transferred on short notice to whichever facility needs them most.
"Today's event is another sign of how the partnership between the United States and Namibia keeps the people in Namibia better prepared for future health crises," U.S. Charge d'Affaires to Namibia Jessica Long said during a handover ceremony. "The Ministry of Health and Social Services, supported by the U.S. government through the PEPFAR [President's Emergency Plan for AIDS Relief] program, has demonstrated determination and commitment to end the HIV/AIDS epidemic and has clearly shown the same responsibility towards ending the COVID-19 pandemic."
The U.S. has donated more than $6.7 million toward Namibia's COVID-19 response.
In October 2021, the U.S. donated 70 intensive care unit (ICU) beds as the country experienced its third COVID-19 wave.
Worth more than $46,000, the beds were distributed at hospitals in the towns of Gobabis, Katima, Katutura, Mulilo, Oniipa, Oshakati, Rundu, Swakopmund and Walvis Bay.
During the third wave, many Namibian health facilities did not have enough ICU beds to meet demand. The beds are crucial in treating COVID-19 patients who have severe respiratory issues.
In July 2021, the U.S. delivered 176 tablet computers, 53 laptop computers and 250 remote temperature-monitoring devices to the country. That donation was made a week after the BBC reported that Namibia had the world's highest daily COVID-19 death rate, at 22 per 1 million people. Infection rates gradually declined, and Namibia reported fewer than 50 COVID-19 infections through much of October.
Also that month, the U.S. donated personal protective equipment and supplies worth $294,000 to Namibia's Health Ministry. The delivery included 140,000 surgical masks, more than 25,000 N95 masks, 2,000 face shields, 87,000 gloves, 21,000 protective gowns and suits, 450 liters of antibacterial soap and 12,000 paper towel rolls.
In April 2021, the U.S. donated 30 centrifuges, 15 vortex mixers, 12 biosafety cabinets, 10 refrigerators and 10 freezers to help strengthen laboratory capacity and protect laboratory workers.
On March 15, Namibian President Hage Geingob relaxed the country's COVID-19 prevention measures after the rate of new infections dropped dramatically.
"Wearing of masks in public places is no longer mandatory," Geingob said in a televised briefing. However, people using public transportation or involved in other indoor activities were encouraged to continue wearing masks. Geingob added that visitors to Namibia were no longer required to show proof of a negative COVID-19 test.