COVID-19 Forced Ugandan Teachers, Students to Take Extreme Measures
ADF STAFF
When COVID-19 hit Uganda in March 2020, teacher Ocwee Irene Trends knew she had to take drastic action.
The country entered into a strict lockdown and closed all the schools. Ocwee had a feeling it would be a long time before her students returned.
As the director of Hilder Primary School, located in a poor neighborhood in Gulu, north Uganda, Ocwee knew the Primary 7 students — her oldest pupils who were between the ages of 13 and 17 — were at great risk of dropping out permanently.
So she brought 30 boys and girls to live in her family home, where she home-schooled them for free.
"The past two years were crazy," she told ADF with a laugh. "But I loved the craziness. I didn't know how hectic it would be to have 30 teenagers."
The government offered no funding. Most of the parents were in poverty and could not provide assistance.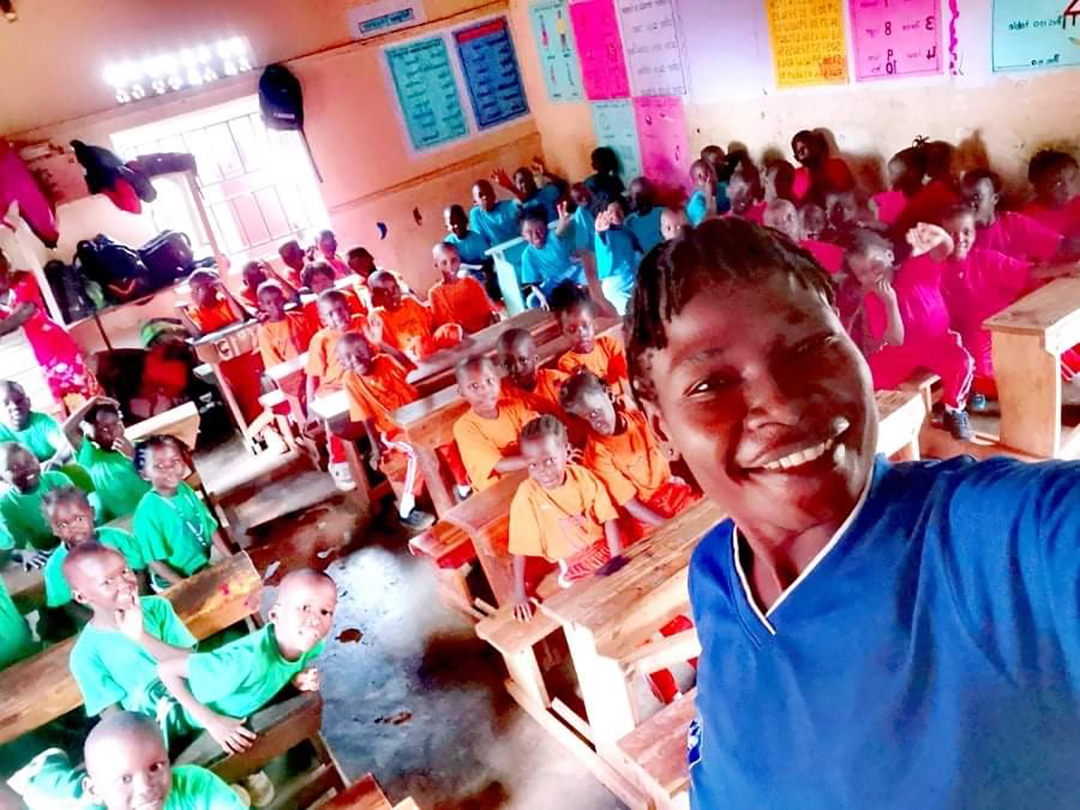 "Out of the 30 kids, five families gave us cassava, beans and sweet potatoes," she said in an interview with Radio France Internationale.
The rest prayed.
Ocwee and her students were like many people who took extreme measures and endured an heavy burden to continue studying and teaching during the pandemic.
At first, Uganda's Ministry of Education offered remote learning options with lessons broadcast on TV, radio and in print. But the funding ran out, and about 15 million children put their education on hold.
In August 2021, Uganda's National Planning Authority (NPA) projected that 4.5 million of them will likely not return to school for a variety of reasons including child labor, pregnancy and marriage.
In January 2022, Uganda ended the world's longest pandemic-related education closure. It lasted 22 months.
Such a severe learning disruption could erode decades of progress in Uganda, which in 1997 became one of the first countries in Africa to offer free elementary school education.
The NPA said 3,507 elementary and 832 high schools nationwide were likely to be permanently closed. Many were shuttered or converted to hotels or restaurants during the lockdown.
Some teachers switched jobs to help provide for their families.
Not Ocwee.
About 2.5 kilometers from town, her family's 6-hectare farm bustled with daily activity. The students helped convert her five-bedroom house. One bedroom became a classroom, and three others turned into dorms for the students.
Breakfast was at 9 a.m. Three lessons a day were taught in the classroom. The students washed clothes, fetched water, and helped farm peanuts, soy, cassava and beans.
In the evening, the students bonded by discussing their parents, their home lives and the community.
"I would give them time to think and share their dreams and to express themselves, how they feel about the current condition of the world and COVID," Ocwee said.
That kind of perseverance during the pandemic has inspired Uganda's Minister for Primary Education Joyce Moriku Kaducu, who attended secondary school in Gulu.
"I don't accept that there is a lost generation," she told The New York Times. "What I agree to is there's a percentage of our children who have gotten pregnant, the young boys have gotten into the moneymaking economy and others have gone into things. That does not mean that we have lost the generation completely."
Hilder Primary School reopened, and Ocwee's home-schooled students took their national exams. All 30 will attend secondary school and Hilder, which is ranked among Uganda's top 20 schools nationally.
The students were recognized on the radio. Their pictures appeared in newspapers.
"Everyone was talking about them," Ocwee said. "It was then that I started realizing what I did.
"We did something good."