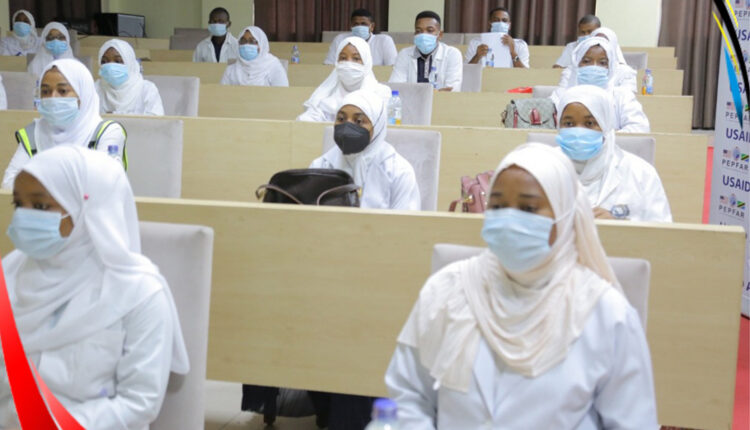 Reading Time:
2
minutes
ADF STAFF
In early October, the U.S. government helped deploy 100 health professionals to Zanzibar to support the archipelago's health system during the COVID-19 pandemic.
The health professionals will work in four ports of entry and 33 health facilities in Unguja and Pemba. The health workers were selected in collaboration with Zanzibar's government and sent to understaffed facilities and ports deemed to have high COVID-19 transmission risks.
"A robust and adequately equipped health workforce is essential for continued advancement and sustained provision of quality health care and emergency responses like COVID-19," Ananthy Thambinayagam, health office director for the U.S. Agency for International Development (USAID), said during a ceremony at which the deployment was announced. "USAID supports investments in the health workforce because a strong and capable workforce for health saves lives, especially now with the COVID-19 pandemic."
Zanzibar is a semi-autonomous group of islands that has been unified with Tanzania since 1964. Health facilities across Tanzania have faced critical worker shortages throughout the pandemic.
In May, the U.S. delivered $400,000 worth of medical and sanitation supplies to Zanzibar.

That shipment included respiratory equipment such as pulse oximeters, which estimate a person's pulse and the oxygen saturation of their blood; pediatric and adult nasal cannulas, which deliver supplemental oxygen or increased airflow to a patient; masks; backpack disinfectant sprayers; and biohazard disposal bags.
Since the pandemic began, the U.S. has invested $25.1 million toward Tanzania's COVID-19 response. U.S. donations to Tanzania have included COVID-19 relief funds to strengthen laboratory capacity for optimal diagnostics, risk communications, water and sanitation, the prevention and control of infections, and public health communications.
Overcoming COVID-19 Skepticism
Through the pandemic's first year, COVID-19 skepticism in the area was high. Tanzania's late President John Magufuli was a staunch coronavirus denier who urged his countrymen to pray the disease away. Magufuli died in March.
Magufuli's successor, President Samia Suluhu Hassan, has worked to strengthen the nation's response to the outbreak. In early September, Tanzania established a project called Strengthening COVID-19 Case Management in Regional Referral Hospitals. The $750,000, 10-month project aims to improve health care for critically ill COVID-19 patients.
The money will help procure oxygen therapy equipment and provide training for health care workers to use and maintain it.
On October 16, Hassan announced that Tanzania allocated 5.1 billion Tanzanian shillings (about $2.2 million) for research aimed at halting the pandemic. The funds are part of a $567.25 million package approved for Tanzania in September by the International Monetary Fund.
"Research is a major pillar in the global fight against the virus and other diseases," Hassan said during a ceremony at Kilimanjaro Christian Medical Center in Moshi.
Tanzania released data on COVID-19 in late June — for the first time in more than a year. The data, which included Zanzibar statistics, was released as the country experienced a third wave of infections.
As of October 19, Tanzania had reported more than 17,800 COVID-19 cases and 50 deaths, according to the Africa Centres for Disease Control and Prevention. However, the numbers had not been updated since August 11.
Zanzibari Vice President Seif Sharif Hamad died in February, weeks after testing positive for COVID-19.