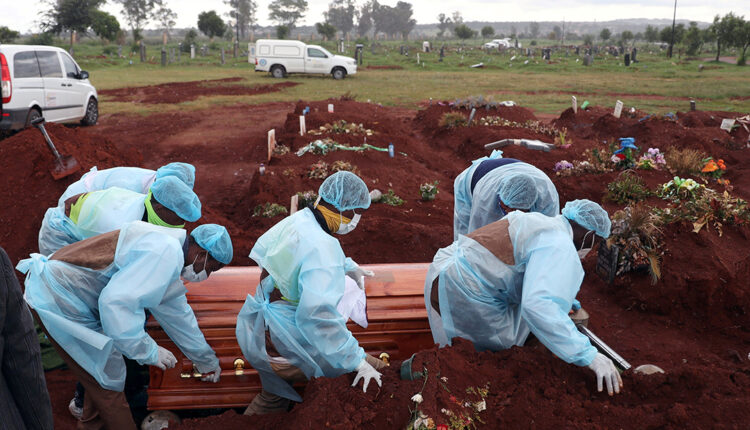 Reading Time:
3
minutes
ADF STAFF
Since it began early last year, the COVID-19 pandemic has claimed more than 215,000 lives in Africa, according to official totals. However, recent studies of the continent's pandemic-related deaths suggest the true mortality is much higher.
So-called excess-death studies compare the current number of deaths to the historic norm for a given location.
"It's one of the things that can give us a flag in the ground of what is happening," demographer Tom Moultrie of the University of Cape Town told ADF.
Excess-death counts depend, however, on collecting accurate data about births and deaths, something many nations struggle to do well.
Most African nations require deaths to be registered, but only eight enforce that requirement, according to a survey of 39 African countries by the United Nations Economic Commission for Africa. Only four of those meet international standards.
In Nigeria, for example, only about 10% of deaths are recorded, according to a 2020 study. A different study in Sudan found that more than 16,000 people in Khartoum died of COVID-19 between April and September 2020, a period when official records reported fewer than 500 pandemic deaths.
South Africa has collected death data since 2000, giving it one of the continent's most reliable vital statistics systems. Using that data, the South African Medical Research Council (SAMRC) estimates that the country has experience nearly 265,000 excess deaths since December 2019.
That count aligns with infection waves that peaked in July 2020, December 2020 and July 2021. Between 85% and 95% of those deaths are directly connected to COVID-19.
SAMRC's estimate is three times the country's official death count of 88,600. Moultrie said that count focuses on COVID-19 patients who died in hospitals but does little to track those who died elsewhere.
The World Mortality Dataset, which compiles death counts of all kinds from 103 countries, reports that excess deaths from COVID-19 globally are 1.4 times higher than official counts.
The creators note that the COVID-19 death toll is likely much higher, but they lack data from 100 countries, including nearly the entire continent of Africa. The dataset includes three African countries — Egypt, South Africa and Tunisia.
Using the dataset's estimate, Africa's actual mortality from COVID-19 could be more than 300,000. Using South Africa's experience as a benchmark, the total could be closer to 645,000.
"There's very limited evidence to suggest that Africa is emerging from this unscathed as some people have suggested," Moultrie said.
Without reliable vital statistics, demographers and public health experts are using other methods to get a handle on the scale of Africa's actual deaths from COVID-19.
In Zimbabwe and Namibia, for example, life insurance companies also are finding much higher death counts than official tallies, Moultrie said. Verbal autopsies, in which researchers interview people about recent deaths in their families, and rapid mortality studies that rely on data collected by hospitals and doctors' offices are two other methods researchers use to get around the lack of official data.
"The data generated from the project is critical in generating evidence on the magnitude and direction of mortality trends and hence guide the ministries of health to take evidence-based decisions as well as instituting targeted interventions," said Dr. Ben Masiira, who is leading rapid mortality studies for the African Field Epidemiology Network in Burkina Faso, Ghana, Liberia, Sierra Leone and Togo.
Despite studies that show the continent's official COVID-19 death count doesn't align with its excess-death estimates, Dr. John Nkengasong, director of the Africa Centres for Disease Control and Prevention, remains skeptical about the excess death numbers.
"I don't believe that we have a significantly higher number of excess deaths in Africa," Nkengasong said during a recent press briefing when asked about the subject.
No count is perfect, he added, but he disputed the idea that actual deaths could be triple the number being reported.
"Deaths in Africa are taken seriously," he added. "If there is a death in my village in Cameroon, I will know, period."
Moultrie said relying too much on official totals — typically derived from deaths at medical facilities — overlooks the much broader toll of the pandemic.
"The evidence is compelling," he said. "There are excess deaths coming through far greater, and we're seeing this in a variety of guises."