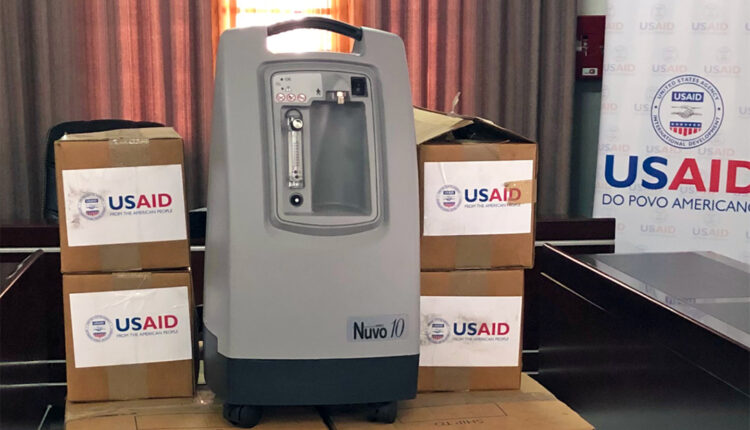 Reading Time:
2
minutes
ADF STAFF
The U.S. government donated 15 state-of-the-art oxygen concentrators to help treat COVID-19 patients at eight hospitals in northern Mozambique's Nampula province in early September. The machines provide continuous, low-flow oxygen to patients suffering from low levels in their blood.
The U.S. Agency for International Development (USAID) is providing technical training teams and funded the necessary rehabilitation in each facility to safely connect the equipment. The total cost of the machines, training and clinic rehabilitation is about $60,000.
The oxygen concentrators will be used at health facilities in Nacala Porto, Nacala Velha, Monapo, Ilha de Moçambique, Meconta, Malema, Mecoburi and Mossuril. The machines create a potentially unlimited local source of oxygen that is up to 95% pure by pulling it from the air and filtering out other substances.
"While patients with severe COVID-19 symptoms will be referred to the designated COVID treatment center in Nampula City, these devices will play a critical role in strengthening Mozambique's resilience to the COVID-19 pandemic," USAID Mission Director Helen Pataki said in a news release. "For people living far from larger, better-equipped health facilities, these oxygen concentrators can provide immediate relief.  This includes patients suffering from mild COVID-19 symptoms, severe hypoxemia caused by COVID-19 and other respiratory conditions," the release said.
The oxygen concentrators were delivered as coronavirus infections were declining in southern and central Mozambique but surging in Nampula, prompting a visit from President Filipe Nyusi.
Speaking to a crowd in Nampula city, Nyusi urged residents to comply with preventive measures so the country can return to social and economic normalcy.
"Nampula is one of the provinces where the situation has again become a matter of concern," Nyusi said in a report by the Mozambique News Agency. "I do not know why people don't believe that the disease exists. Many have lost relatives or friends, and so we need to take this seriously."
Mozambique's Ministry of Health declared in September that the country's third wave of COVID-19 infections was over.
Since the pandemic began, the U.S. has donated about $51 million toward Mozambique's COVID-19 response.
In May, the U.S. invested $320,000 in a program that will provide solar power to 92 health facilities in Sofala, a coastal province in Mozambique. USAID awarded the Power Africa grant to renewable energy company SolarWorks! Mozambique to install off-grid solar-powered electrical systems in rural health facilities that serve about 138,000 people. In Sofala, 90% of health facilities don't have regular access to electricity. The grant covers operations and maintenance costs for one year.
In July, the U.S. donated $600,000 worth of medical equipment and funding to hire more nurses and physicians to staff coronavirus treatment centers.
The donation included personal protective equipment for health care workers, cardiorespiratory monitors, oximeters and devices that support the ongoing use of U.S.-donated ventilators. The delivery was made to the capital, Maputo, in southern Mozambique.