Ghanaian Doctor Speaks Out Against COVID-19 Myths
ADF STAFF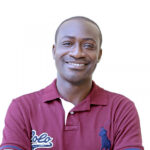 Dr. Joshua Arthur doesn't try to silence those spreading myths and misinformation about COVID-19. In fact, he invites them to speak freely so he can counter bad information with proven facts.
Arthur, a public health expert in Ghana, frequently engages directly with the public as part of the nation's pandemic response. He stands before rooms full of different audiences and conducts workshops for companies, churches, nongovernmental organizations, and workers in the formal and informal sectors.
"My preferred engagement style is an open question-and-answer session," he told ADF. "In my experience, it is always better to address the COVID-19 issues that the audience considers topical, including outlandish conspiracies.
"Instead of preparing a top-down presentation for their education, I allow the audience to frame and shoot their questions based on their current knowledge and beliefs."
As of early October, Ghana had recorded 127,482 cases of COVID-19 and 1,156 deaths. A third wave of the pandemic hit a single-day record of nearly 2,000 cases on August 2.
President Nana Akufo-Addo announced tighter restrictions in a sorrowful state broadcast in late July as cases were surging.
"These increased infections have largely been driven by the delta variant of the virus," he said. "It is obvious from the data that we've let our guard down."
Case numbers have steadily declined since the end of August, but Arthur said many Ghanaians continue to be dismissive of COVID-19.
"Many doubt the true existence of the disease," he said. "Some of this has to do with the limited numbers that have been recorded for COVID-19 cases and mortalities compared to other countries."
One of the biggest issues continues to be misinformation, which is why experts like Arthur have encouraged citizens to share their thoughts and beliefs about the disease.
Earlier this year, hospital executive Dr. George Donkor took live questions during a popular radio show based in the capital, Accra. One claim kept coming up, forcing Donkor to dispel it as a myth.
"It is medically unfounded that sex prevents coronavirus," he explained.
Arthur believes many Ghanaians are victims of misinformation that spreads quickly on various forms of media.
"There is an erroneous perception that if a piece of information is written out or videoed, then it must be true," he said. "However, when engaged with consistent local evidence and examples from daily life, many quickly realize how outrageous these conspiracy theories really are."
Arthur was a family doctor for years before he joined the Public Health Unit at Komfo Anokye Teaching Hospital in Kumasi as its head of disease control and surveillance.
Like anyone else, he could not have foreseen the global COVID-19 pandemic. But when it hit Ghana, he was glad to be in a position to help the most people.
"I always yearned to have a form of practice that could impact more people at a time, and clinical practice, though satisfying, seemed a bit short on that," he said. "The pandemic has challenged my skills and abilities as a physician, as a public health practitioner and as a health manager. It has expanded my capabilities beyond what ordinary practice could have done in such a short time."