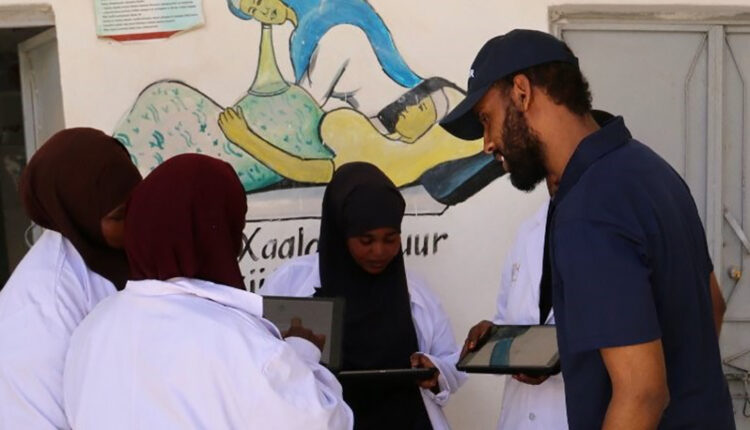 Reading Time:
3
minutes
ADF STAFF
Canadian-born Somali Khalid Hashi's work to improve his ancestral homeland's health care system began with a 2017 trip to visit his grandmother.
It was Hashi's first trip to Somalia. His grandmother was scheduled for eye surgery. While accompanying her to the hospital, Hashi noticed that doctors were sharing her medical information verbally. Nothing was being written down.
"When I was there, my mind was just racing," Hashi told the Canadian Broadcasting Corp. (CBC). "My grandmother didn't have her medical records, and I knew many others didn't as well."
When he returned to his home in Edmonton, Alberta, in western Canada, Hashi set to work creating a way for Somalia's health care system to reliably document and track patient care. By 2018, with the help of investors and app developers, he had created OGOW electronic medical records (EMR), a system tailored to the needs of Somali health care providers.
He started off working with clinics associated with the nongovernmental organization World Vision. Since then, the project has grown to encompass all of Somalia.
The app, which is available online and offline, has transformed operations at the Waberi Mother and Children Health Center in Mogadishu.
Before adopting OGOW EMR, the clinic tracked its patients and their vaccination records by hand in large books. The process was cumbersome and error prone.
"Because the process is manual, a lot of errors in recording the children's information can arise," said Nasra Saleman, a nurse at the clinic. It was also time consuming to search the books for individual children during their visits — a process workers would have to repeat for each of their 700 clients up to five times until they completed their vaccination schedule.
The digital platform has simplified all that, making searching and updating records almost instantaneous, Saleman said.
The system also lets health care workers send out text reminders to mothers that their children have upcoming appointments — a potentially vital connection in a country where 8% of children die before their first birthday and 12% die before the age of 5.
Hashi won a $10,000 grant from the Bill and Melinda Gates Foundation to help develop his app. It caught the attention of Somalia's chapter of Response Innovation Lab, a group that seeks technological solutions to humanitarian problems.
OGOW means "know" in Somali. Hashi's roots in Somalia made his app easy for the population to adopt, according to Nishant Das, manager of Somalia's Response Innovation Lab.
"A locally derived solution has a better chance of having a positive impact and being sustainable," Das said.
OGOW EMR was honored with the Innovative Award at the country's 2020 International Somali Awards. Hashi was invited to speak at the Mogadishu Tech Summit, Somalia's first-ever technology and innovation summit. He also served as a mentor and judge for the COVID-19 Hackathon with the United Nations Development Program (UNDP).
With the arrival of the COVID-19 pandemic, Hashi has turned his effort toward helping Somalis confront the disease. He returned to Somalia in early 2020 to help the government confront misinformation about the disease.
His team expanded OGOW EMR to include COVID-19 information in Somali and Arabic. They added a text-alert system that could notify subscribers of emergency situations regarding the pandemic and created videos to educate people about COVID-19 symptoms and where to get tested. Health workers went door to door in 45 villages and showed the videos on tablets.
Abdihamid Warsame, a researcher at the London School of Hygiene and Tropical Medicine who has done work in Somalia, told Canada's Globe and Mail newspaper that Hashi's work is making a difference in Somalia.
"There's quite a lot of misinformation about the disease, that it doesn't really exist in Somalia, and it's a disease of foreigners," Warsame said. "People don't really take the precautions that they should. And I think Khalid's work is doing a lot to try and overcome this challenge."