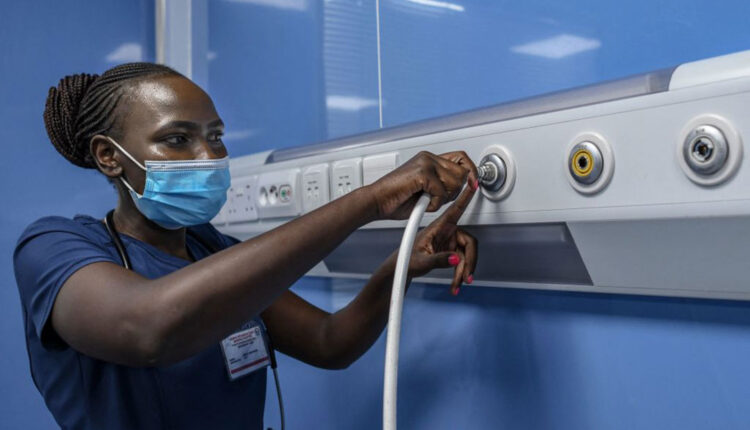 Reading Time:
2
minutes
ADF STAFF
As the highly contagious delta variant drives a third wave of COVID-19 infections, the World Health Organization (WHO) has approved a group of anti-inflammatory drugs to treat patients suffering from the disease's most severe symptoms.
The approval of the drugs, known as Interleuken-6 receptor blockers, comes as hospitalizations have risen 40% across the Africa and the overall vaccination rate remains at just over 1%.
For some people with severe cases of COVID-19, the virus can trigger a "cytokine storm" that causes a runaway reaction to infection by the body's immune system. Cytokine storms can cause the body to damage or destroy its own organs. One type of cytokine storm, acute respiratory distress syndrome (ARDS), which has a fatality rate of more than 50%, is the main cause of death for the most severe cases of COVID-19.
Interleuken-6 is a type of cytokine. Interleukin-6 receptor blockers calm the cytokine storm by interrupting part of the immune response that causes them. The blockers have been studied as a treatment for COVID-19 since early 2020.
According to a WHO trial, the blockers — tocilizumab and sarilumab — reduced the number of patients who died of COVID-19 while receiving oxygen or other breathing support. It also reduced the number who needed to be placed on a ventilator.
A separate study published earlier this year in the New England Journal of Medicine showed similar results. In that study, patients showed the best outcomes if they began treatment with Interleuken-6 blockers within 24 hours of starting breathing support.
"This drug [tocilizumab] could become essential for treating people with critical and severe cases of COVID-19 and reduce the need for ventilators and medical oxygen, which are scarce resources in many places," Julien Potet, neglected tropical diseases policy advisor at Doctors Without Borders, said in a statement.
The blockers are given intravenously over the course of an hour. They're more effective when paired with corticosteroids such as Dexamethasone, another drug commonly used to treat inflammation. The WHO approved the use of corticosteroids for severe COVID-19 cases in September 2020.
The challenge for some countries could be access to the drugs. Tocilizumab and sarilumab are both monoclonal antibodies — synthetic proteins that act like human antibodies in the immune system. They can cost hundreds or thousands of dollars per dose. They're also protected by patents, making it difficult for countries to develop their own versions.
The WHO and Doctors Without Borders have called for manufacturers to reduce the drugs' price and either share the technology or waive patent protections to let countries develop their own versions.
"IL-6 receptor blockers remain inaccessible and unaffordable for the majority of the world," WHO director-general Tedros Adhanom Ghebreyesus said. "So the greatest need for these drugs is in countries that currently have the least access. We must urgently change this."