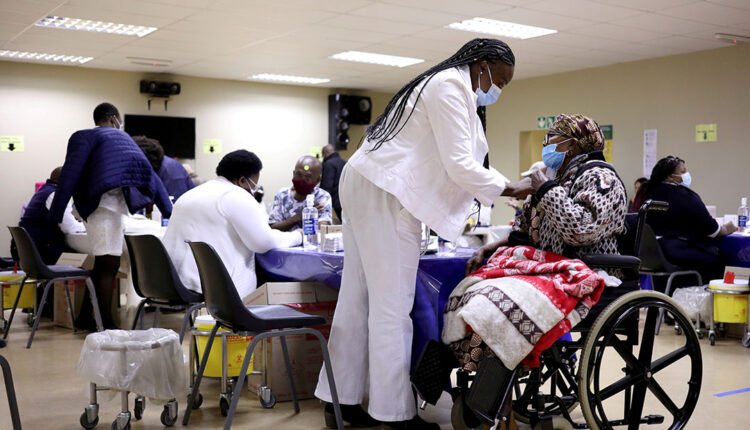 Reading Time:
2
minutes
ADF STAFF
The U.S. has announced a $708 million investment plan to help South African pharmaceutical company Aspen Pharmacare produce more than 500 million COVID-19 vaccine doses for African nations by the end of 2022.
The financing package was facilitated by the U.S. Development Finance Corporation, the World Bank, Germany and France. Vaccines produced by Aspen will be delivered through COVAX, the global effort to distribute vaccines equitably, with assistance from the African Union, according to a report by South African online news publication News24.
"We see this investment as, in the short-term, a really viable response to the urgent need on the continent for vaccines for COVID," Gayle Smith, the U.S. State Department's coordinator for global COVID-19 response, told Voice of America. "And also, importantly, as a long-term investment in the capacity of the continent to increase its own production of these vital goods so there is a greater availability and resilience over time. So it's a short-term investment with a long-term vision."
Officials announced the investment in early July as Africa faced a shortage of COVID-19 vaccines and lagged far behind its vaccination campaign goals. Just more than 1% of the continent's 1.3 billion population was fully vaccinated as of mid-July, and several nations were experiencing a surge of infections.
"We are very far from our target," Dr. John Nkengasong, head of the Africa Centres for Disease Control and Prevention, told the Associated Press. "We don't want to be seen as the continent of COVID. … [In Europe] the stadiums are full of young people shouting and hugging. We can't do that in Africa."
In May, U.S. philanthropist Dr. Patrick Soon-Shiong, a transplant surgeon and businessman who owns the Los Angeles Times newspaper, announced that he will commit $210 million to help produce COVID-19 vaccines in his native South Africa.
Soon-Shiong, who also runs ImmunityBio, a biotech company that develops products that strengthen people's immune systems, said his business and philanthropic foundation would donate the money. It will be used to deliver vaccine-producing technology and biological therapies that can be exported around the continent.
There are fewer than 10 vaccine distributors in Africa, based in Egypt, Morocco, Senegal, South Africa and Tunisia. But most of those businesses handle packaging and labeling rather than manufacturing.
When vaccine deliveries to Africa through COVAX almost completely stalled in May — after the Serum Institute of India diverted doses for domestic use — Senegal and Rwanda also announced plans to boost COVID-19 vaccine production.
At the time, Rwandan President Paul Kagame told World Health Organization officials that the only way to ensure vaccine equity was to produce more vaccines where they are needed. In July, Rwanda signed a $3.6 million partnership with the European Union to upgrade the country's laboratory capacity and attract investors to manufacture COVID-19 vaccines.
Kagame said Rwanda wants to produce vaccines using messenger RNA (mRNA) technology, which is used in leading Western vaccines.
"For Rwanda, in particular, we have partnered with some industries that are specializing in mRNA technology," Kagame said in a report in The East African. "So, we have already discussed that technology with people who will help with financing and I think in a few months we should hear a different story."
In early July, Senegalese officials said that construction of a new vaccine manufacturing plant should begin this year. The facility, run by the Institut Pasteur in Dakar, could produce 25 million doses per month by the end of 2022, Reuters reported.