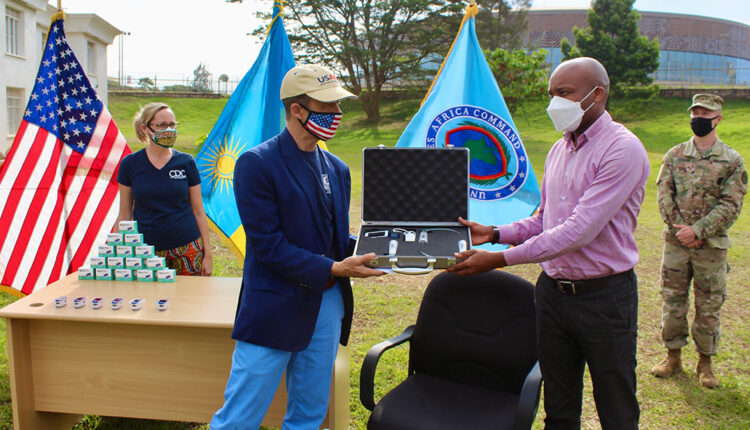 Reading Time:
2
minutes
ADF STAFF
With Rwanda in the grips of a deadly third wave of COVID-19, the United States is stepping up to help.
The U.S. government donated medical supplies worth 172 million Rwandan francs ($174,885) on June 22 as part of its commitment to helping the country fight the pandemic.
The next day, Rwanda reported 964 new cases — its third straight day of breaking the single-day record.
"If the country records over 100 cases daily, it is a big challenge," Minister of Health Dr. Daniel Ngamije said in a national broadcast earlier in June as cases began to rise sharply.
Dr. Albert Tuyishime, the Rwanda Biomedical Centre's head of the Institute of HIV/AIDS Disease Prevention and Control, received the U.S. donation from Ambassador to Rwanda Peter Vrooman. It included nearly 100 video laryngoscopes, an intubation device for critically ill patients and 8,300 pulse oximeters, a device that measures oxygen levels in the blood.
The U.S. Centers for Disease Control (CDC) coordinated the donation and has played a key role in supporting Rwanda's ability to prevent, detect and respond to COVID-19.
In a statement, the Rwanda Biomedical Centre thanked the U.S. CDC for the laryngoscopes, which will be used "to support COVID-19 case management. Pulse oximeters will be used by community health workers in their daily follow-up visits."
The tools will provide urgent support to medical practitioners and community health workers around the country as Rwanda fights a new wave of COVID-19.
"The partnership in public health between the United States and Rwanda is helping to save lives every day as we work together to fight COVID-19 and other critical public health challenges," Vrooman said at the handover ceremony.
The 96 new video laryngoscopes will ensure that COVID-19 patients get the oxygen they need to survive. Each video laryngoscope kit includes adult and youth models.
The 8,300 new pulse oximeters will be distributed widely to help community health workers use oxygen levels to identify people who need advanced medical care.
The U.S. has donated about $17 million to the country's COVID-19 response since March 2020. This support includes the construction of hand-washing stations across Rwanda; support for public communications; staff and vehicles to support contact tracing; laboratory diagnostic equipment and supplies; support for training of frontline workers; medical equipment including ventilators, patient monitors, hospital beds, intensive care units, mobile X-ray machines, video laryngoscopes and pulse oximeters; and infection prevention and control supplies such as biohazard bags, alcohol, soap, and personal protective equipment.
On June 21, Rwandan President Paul Kagame reimposed tight restrictions, suspending all social gatherings and extending curfew times to 7 p.m. through 4 a.m. Rwanda also restricted cross-district movements and further emphasized mask wearing, hand-washing and social distancing.
Rwanda's campaign to vaccinate 60% of the population — roughly 7.5 million people — by June 2022 so far has reached just over 3% with about 3.5 million doses expected by the end of this year.
"What we are asking people is to be encouraged to be vaccinated," Ngamije said. "We have not even vaccinated 10% of our target."