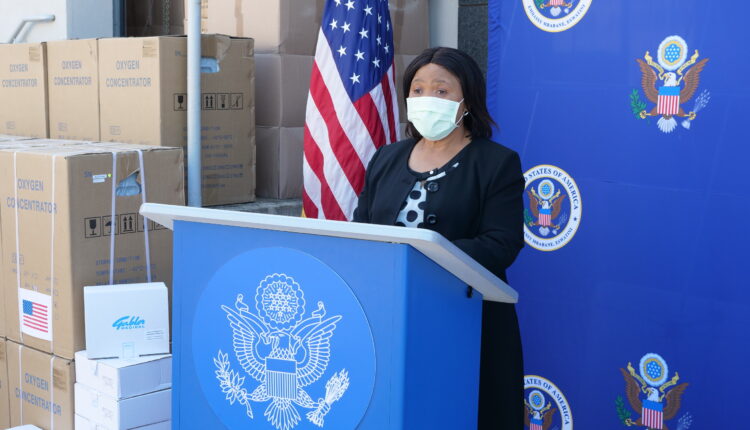 Reading Time:
3
minutes
ADF STAFF
When a second wave of COVID-19 hit Eswatini in January, the kingdom recorded the fourth-highest virus fatality rate in the world, according to the U.S. Embassy in Eswatini
The country of about 1.1 million people reported just more than 19,000 COVID-19 infections and nearly 680 deaths as of July 5, according to the Africa Centres for Disease Control and Prevention.
As epidemiologists predicted a longer, possibly more severe third wave in the Southern Hemisphere, the U.S. donated $774,188 worth of medical supplies, personal protective equipment and medical services to help Eswatini mitigate an expected surge of infections.
The June donation included training for health care workers involved in COVID-19 case management, medical oxygen, oxygen concentrators and rebreather oxygen treatment masks, which have been used to treat COVID-19 patients in South Africa.
"We are proud to be the first to bring this South African COVID-specific innovation to Eswatini," U.S. Ambassador Jeanne Maloney said during a handover ceremony. "These masks are a game changer in the fight against COVID-19 due to this equipment bridging the gap between current standard oxygen therapy and intensive care-based ventilation, while requiring no more oxygen flow than a standard face mask."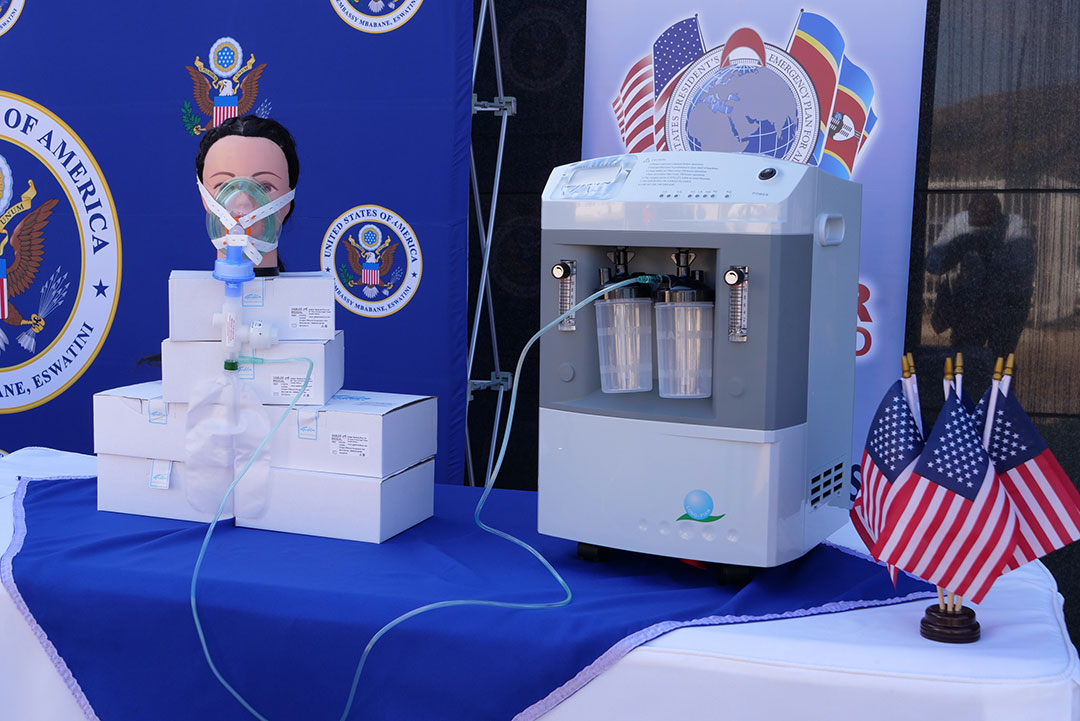 The U.S. has donated $8.5 million to Eswatini since the pandemic started. Previous donations included 11,250 plastic face shields, 12,400 filtering facepiece masks and 256 infrared thermometers to the Ministry of Health.
The recent donations arrived as Eswatini prepared to enter the second phase of its COVID-19 vaccine rollout. Analysis by the World Health Organization (WHO) showed that Eswatini administered more vaccines per person than any other African nation during the first phase of its vaccine campaign.
"Eswatini gave nearly 110% of the doses they received as they made use of every single drop in every vial," Dr. Phionah Atuhebwe, WHO's new vaccines introduction officer for Africa, told ReliefWeb. "Each vial contains a little more of the fluid needed for each dose to account for any spillage or accidents, but with precious few doses, Eswatini made the most of what they had."
Among those vaccinated was Linda Simelane, who lives in rural Sibebe. Simelane contracted COVID-19 last year and described a miserable experience.
"When I woke up I just couldn't breathe. I couldn't walk and I had a headache. I managed to call my son who came quickly and took me to the hospital," Simelane told ReliefWeb. "After an X-ray the health worker told me that my lungs were finished. So they took me straight into intensive care, and I was put on oxygen and a drip."
Simelane recovered and was released from the hospital after several days. When the first COVID-19 vaccines arrived in March, she said she wasn't sure she should take one.
"But I've had it now, and I advise people to get it because this is not an easy sickness," Simelane told ReliefWeb.
Health worker Vuyisile Lukhele said others were hesitant to receive a COVID-19 vaccine due to misinformation about their efficacy and potential side effects.
To fight misinformation and ensure people agree to be vaccinated, the Ministry of Health established a myths and misinformation committee.
"The biggest success has been the public demand and acceptance of the vaccine," Lizzy Nkosi, Eswatini's health minister, told ReliefWeb. "We started monitoring misinformation and engaging the public from very early in the COVID-19 response and built up trust through constant engagement via press conferences and radio spots, particularly around the AstraZeneca vaccine. By the time the vaccines arrived people wanted to be protected from severe illness and dying."