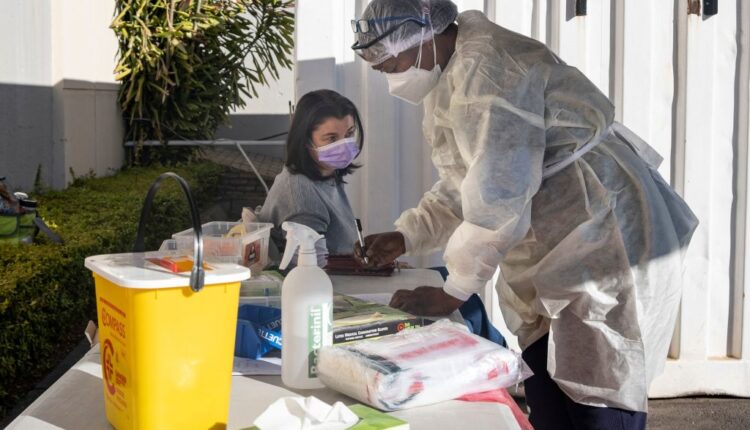 Reading Time:
3
minutes
ADF STAFF
The highly contagious Delta variant of COVID-19 is sweeping across Africa, driving an unprecedented wave of infections, hospitalizations and deaths.
"The speed and scale of Africa's third wave is like nothing we have seen before," Dr. Matshidiso Moeti, director of the World Health Organization's (WHO) Africa regional office, told a virtual press conference at the end of June.
Cases are doubling every three weeks, compared to every four weeks at the start of the second wave, Moeti said.
"Africa can still blunt the impact of these fast-rising infections, but the window of opportunity is closing," she added. "Everyone everywhere can do their bit by taking precautions to prevent transmission."
The Delta variant is about 75% more infectious than the original COVID-19 virus. It has struck Africa at a time when the continent is struggling to gain access to vaccines and to administer the vaccines it does have.
The Serum Institute of India, which had provided vaccines to Africa via the international COVAX facility, stopped shipping doses abruptly earlier this year as the Delta variant swept across India.
"This has created a massive crisis," said Strive Masiyiwa, the Zimbabwean businessman serving as the African Union's special envoy on COVID-19 and coordinator of AVATT, the African Vaccine Acquisition Task Team.
Under their original plans, African leaders expected to have received more than 700 million vaccine doses at this point. The Indian export ban has slowed things significantly.
At the beginning of July, Africa's COVID-19 case count stood at 5.6 million with more than 145,800 deaths, the Africa CDC reported. Studies of excess deaths during the pandemic suggest the overall death count is much larger.
New COVID-19 infections grew by 209,000 in the week that ended July 1, according to the Africa Centres for Disease Control and Prevention (Africa CDC). Half of those cases were in South Africa, where the Delta variant is rapidly gaining dominance. Overall, infections rose 29% in June, according to the Africa CDC.
The Delta variant is present in 21 African countries, and 10 are experiencing surges. Health systems are struggling to keep up. In South Africa, President Cyril Ramaphosa said the country's health care network is buckling under the strain.
Deaths are rising as well. In the Democratic Republic of the Congo, which has been slow to vaccinate its population, the death rate more than doubled in June.
"The Delta variant is dangerous and is continuing to evolve and mutate, which requires constant evaluation and careful adjustment of the public health response," WHO Director-General Dr. Tedros Adhanom Ghebreyesus said during a recent press event.
The Africa CDC has begun dispatching rapid-response teams to countries experiencing surges to help them bend the infection curve, according to Africa CDC Director Dr. John Nkengasong.
Teams have been dispatched to Namibia, the Seychelles and Zambia. Nkengasong shared a video on Twitter showing Africa CDC teams arriving in the Zambian capital, Lusaka, with loads of protective equipment and other materials.
So far, just over 1% of Africa's 1.2 billion people have been fully vaccinated against COVID-19. At the same time, so-called pandemic fatigue has caused many to abandon precautions such as masks and social distancing.
"The good news is some countries are making very good progress" on vaccinations, Nkengasong said.
Morocco has vaccinated 24% of its population and used all its vaccines. Nigeria has used 90% of its vaccines. South Africa has used 50% of its vaccines, according to Nkengasong.
Meanwhile, South Africa's Aspen Pharmaceutical expects to begin releasing up to 400 million locally produced doses of the Johnson & Johnson single-shot vaccine in August. J&J vaccines have proved effective at protecting against the Delta variant.
Masiyiwa said developments at Aspen Pharmaceutical and news about plans to manufacture vaccines in Senegal and elsewhere are promising, though they've come too late to stop the growing Delta wave.
"There is movement," Masiyiwa said. "But we've got an extraordinary situation with the third wave."