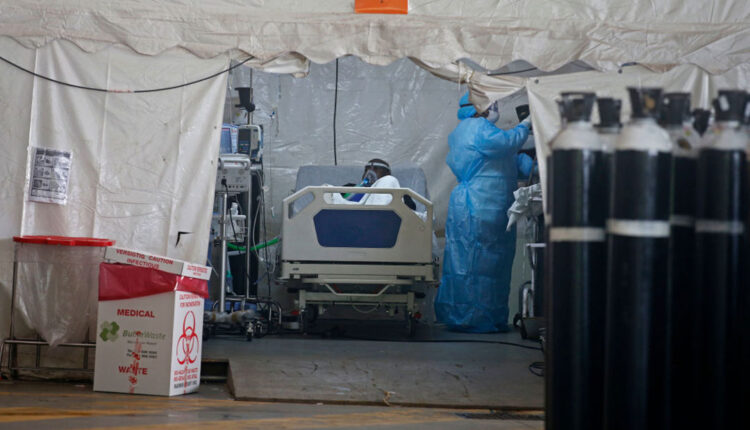 Reading Time:
3
minutes
ADF STAFF
A third wave of COVID-19 is surging across Africa, driven by the Delta variant and aided by low vaccination rates.
On June 27, South Africa announced a two-week ban on all gatherings and reimposed other lockdown restrictions. Hospitals in Kinshasa, capital of the Democratic Republic of the Congo (DRC), are overwhelmed. In Uganda, an oxygen shortage makes it difficult to treat the critically ill.
"Africa is in the midst of a full-blown third wave," Dr. Matshidiso Moeti, the World Health Organization's (WHO) Africa regional director, said in a recent news conference. "The sobering trajectory of surging cases should rouse everyone into urgent action."
Moeti said the continent already had passed its first-wave peak from in mid-2020 and will surpass last year's second-wave peak by early July. The current infection rate is about 21% higher than the runup to the second peak.
She called on African nations to scale up their public health measures quickly so they can locate and isolate people who have contracted COVID-19. In the meantime, residents need to do better at using proven protective measures such as masks, hand-washing and social distancing to slow the spread of the virus, she said.
Moeti also called for accelerating vaccinations where possible. Nearly two dozen African countries have used less than half their vaccine dose allotment so far, including four that are experiencing a third wave. About 1.25 million AstraZeneca doses spread across 18 countries will expire in August.
"The rise in cases and deaths is an urgent wake-up call for those countries lagging behind to rapidly expand vaccination sites, to reach priority groups for vaccination and to respond to community concerns," Moeti said.
The Delta variant, first identified in India, has spread to 14 African countries. It is more transmissible than previous variants (Alpha and Beta) identified on the continent and is spreading rapidly among unvaccinated people.
At a time when the world has seen its overall COVID-19 cases decline, Africa's caseload has grown 40%, according to the WHO. As of late June, Africa had reported 5.4 million COVID-19 cases and 141,000 deaths since the pandemic began in early 2020.
In South Africa, which continues to have the continent's largest COVID-19 case count, the Health Ministry reported more than 15,000 new cases and 122 deaths in the 24 hours before President Cyril Ramaphosa's June 27 announcement of Level 4 lockdown restrictions. Those restrictions ban all gatherings except small funerals, ban the sale of alcohol, limit restaurants to takeout and deliveries, and broaden a nightly curfew from 9 p.m. to 4 a.m.
Those limitations also include a ban on nonbusiness travel to and from Guateng province, which accounts for 60% of new infections. Guateng is home to Johannesburg and Pretoria and has a population of about 15 million.
The Delta variant is now dominant in the DRC and Uganda, where the surge is pushing health care systems to their limits, according to Moeti.
DRC President Felix Tshisekedi has said the third wave has overwhelmed hospitals in Kinshasa. He promised to take drastic measures to deal with the surge, though he didn't specify what those might entail.
The DRC delayed its vaccination program and even returned thousands of doses of AstraZeneca vaccines to COVAX earlier this year to be used by other countries before they expired. Since vaccinations began in April, fewer than 30,000 doses have been administered.
"In Kinshasa, they don't care about COVID-19, they don't believe in it," Pascal Lutumba from the tropical medicine department at the University of Kinshasa told Reuters. "That's the big issue."
In Uganda, the nation's 14 largest government hospitals can fill up to 3,000 oxygen cylinders a day and supply oxygen to smaller hospitals around the country. Even with those supplies, medical facilities cannot meet demand.
Uganda's COVID-19 cases were nearly 16 times higher in June than in May, when the third wave began. Some experts believe the country could need up to 25,000 filled oxygen cylinders a day by the end of July — a figure far beyond the nation's production capacity.
On top of that, cylinders themselves are in short supply, so hospitals must ship them back to be refilled, which takes time and further complicates the ability to meet demand.
Africa Centres for Disease Control and Prevention Director John Nkengasong said the severity of the third wave has surprised the continent's health experts.
"The third wave has come with the severity that most countries were not prepared for," Nkengasong said. "So, the third wave is extremely brutal."