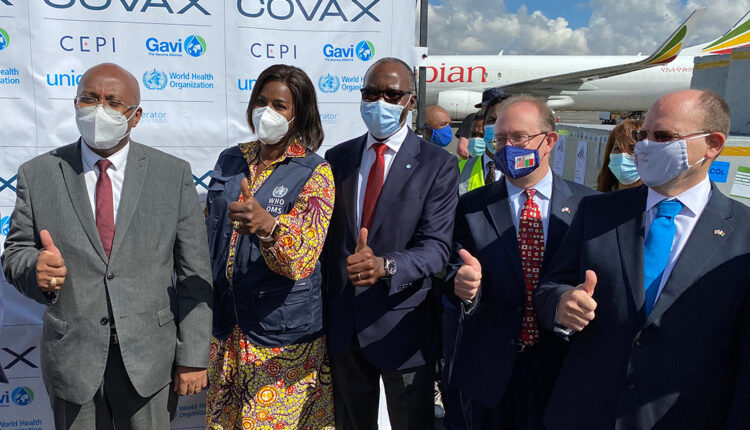 Reading Time:
3
minutes
ADF STAFF
When the second wave of the COVID-19 pandemic hit Madagascar much harder than the first, a new urgency took hold.
The United States also stepped forward to support the island nation in its fight.
The Malagasy government reported 12,318 new infections in April, bringing the total number of confirmed cases to 37,014. The death toll rose from 433 in March to 643 in April.
President Andry Rajoelina took decisive action in early April when the virus began to spike.
He declared a state of emergency and promised to increase the Health Ministry budget. He imposed new restrictions that closed borders of the most affected regions, suspended international flights, banned large gatherings, closed places of worship, and converted some hotels and schools to clinics.
"The situation is serious," he said in a speech on April 14 after the Health Ministry confirmed a record 859 cases in 24 hours. "Compared to the first wave, the situation we are currently facing is particularly hard.
"We must help each other, join hands and work together, fight together so that this disease causes as few victims as possible."
On April 1, Madagascar became one of the last countries in Africa to join COVAX, a global initiative led by the World Health Organization to distribute COVID-19 vaccines to lower-income countries.
Leaders worldwide applauded the decision.
"The Malagasy state is in no way against vaccination," Rajoelina said. "We must carefully choose the vaccines adapted to the variant of COVID-19 which is raging in Madagascar."
The first COVAX shipment of 250,000 doses arrived May 8. The United States was represented in a ceremony on the airport tarmac.
"I want to congratulate the government of Madagascar for taking action to participate in COVAX and bring much-needed vaccines to the Malagasy people," Ambassador Michael Pelletier said. "The United States is proud to be the largest contributor to COVAX, helping to ensure the equitable delivery of safe and effective vaccines in Madagascar and around the globe."
The U.S. pledged $4 billion to the COVAX fund in February.
Throughout the pandemic, the U.S. has supported Madagascar's pandemic response, providing $2.5 million in emergency funding and repurposing $2.2 million in United States Agency for International Development (USAID) health projects to COVID-19 response measures.
In October and November 2020, USAID donated $29,000 in computer equipment to Madagascar's Ministry of Water, Sanitation and Hygiene to strengthen the country's pandemic response coordination.
In March, USAID provided "head-to-toe" personal protective equipment (PPE) to front-line health care workers in 13 areas of Madagascar battling the disease.
On May 13, USAID donated $10,000 worth of equipment and supplies to six COVID-19 treatment centers. The package included washable coveralls, rubber boots, gowns, filter masks, gloves, hand-washing devices, disinfectant sprays and other cleaning materials.
On May 14, Pelletier presented Dr. Gilbert Andrianandrasana with the U.S. Embassy's Champions of Madagascar "Mpiaradia" Award for his leadership in delivering PPE to hospitals and health centers across the country. The U.S. Department of Defense (DOD) provided the PPE to Gilbert, who has been the chief of party for USAID's IMPACT health program since 2018.
The IMPACT project is a five-year, $32 million program to improve the supply and delivery of medicines and medical materials in Madagascar.
Starting in June 2020, the program delivered 45,500 medical-grade face coverings, 39,000 gloves, 2,600 disposable gowns, 2,600 disposable overshoes, 650 goggles, 650 thermometers, 260 jumpsuits, and 650 bottles of sanitizing gel to hospitals and basic care centers in 13 districts.
"The project was initiated at the best time, when we noticed a substantial increase of cases and hospitals that were facing a shortage of PPE," Gilbert said in a statement on the U.S. Embassy website. "I continue to receive calls from the regional and district health authorities to thank the DOD and PSI [health nonprofit Population Services International] for this critical assistance."